Marvel Drops First Full Black Panther Trailer
Hang on for a minute...we're trying to find some more stories you might like.
Marvel surprised fans by unexpectedly releasing a new Black Panther trailer. Last week the trailer was classified by Marvel which caused fans to start speculating when the trailer would drop, however, we weren't expecting it so soon. This is the first full length trailer for the film since fans were teased back in early June with a short, but amazing teaser set to We Run the Jewels' "Legend," that showed off a decent amount of the movie to which the fans raved over.
This trailer was the same trailer shown to the Hall H audience at Comic Con this year, but with just a slightly different cut. Set in the Marvel Universe's fictional hidden African country of Wakanda, which is also the richest and most technologically advanced nation in the world. The trailer shows that things have become difficult for the former prince T'Challa, now King of the nation after his father's death in Captain America: Civil War, as outside forces challenge his place on the throne and the well-being of his people.
The movie looks insanely good so far. The CGI is still being worked on, however, we see incredible shots of Wakandan scenery, as well as car chasing and combat fighting action pieces set to Vince Staples' Bagbak, with T'Challa in a new Vibranium suit that now morphs over his body (something Tony Stark himself has been trying to do for years. No shade.). We see new scenes of T'Challa's younger and brilliant sister, Shuri, the Princess of Wakanda, especially an endearing shot of the two that shows how close the siblings are. New material from the villainous team-up of Michael B. Jordan's Erik Killmonger, T'Challa's jealous rival who is also after the throne, and Andy Serkis' Ulysses Klaue, the black arms dealer (who was last seen in Avengers: Age of Ultron) is also at the forefront.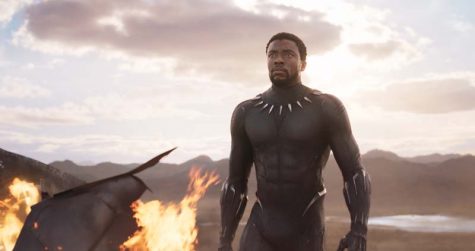 In the last few shots of the trailer we see more of Wakanda's advanced tech being put to use and we also get an awesome – and surprising – glimpse at the Golden Jaguar suit that Killmonger sports to fight off the Dora Milaje (T'Challa's elite group of female bodyguards) with T'Challa's voice in the background stating that "whatever happens now, determines what happens to the rest of the world" indicating that the situation at hand could have bigger consequences than just the fate of Wakanda.
The film seems to be gearing up to be one of the MCU's best and most anticipated movies if the trailers tell otherwise. An action packed and visually stunning superhero film about African royalty, with a spectacular A-list cast including Oscar and Emmy nominated Angela Basset, Oscar winner Lupita Nyong'o, The Walking Dead's Danai Gurira, Letitia Wright, Forest Whitaker, Daniel Kaluuya, Sterling K. Brown, and so many more with acclaimed director Ryan Coogler at the helm? It's safe to say the film will be nothing short of astonishing.
Marvel's Black Panther hits theaters on February 16th, 2018.

About the Writer
Jenise Mass, Staff Writer
Hello, my name is Jenise, and I'm a senior at Santaluces. I joined Newspaper this year to become more involved with my school and because I'm interested in journalism. After high school I plan to earn my Associate's Degree at a community college, then transfer to a state university for my Bachelor's Degree. I love video games and animation; it is a dream of mine to be a part of making video games as an animator and I hope to eventually work for my favorite developer Naughty Dog. My favorite game is The Last of Us. I love music and will listen to just about anything (except country). I love sloths and dogs. I'm an avid fan of Marvel and my favorite characters are Captain America and Spider-Man, and not just because I'm in love with Chris Evans and Tom Holland. This year, I'm excited to provide my input on SHS The Tribe and contribute to my school.