The 2018 Golden Globes Awards
The 75th Annual Golden Globes was the first major award show of the year, hosted by comedian Seth Meyers. This past year was a good year for film and television, however, it was also the year that revealed how twisted Hollywood can be towards women after the first initial accusations against Harvey Weinstein came out.
The show started off the awards season on a solid, if not hypocritical, note by addressing the sexual harassment and gender inequality towards women in Hollywood, with almost everyone who attended wearing black to represent the #TimesUp and #MeToo movements, and of course by awarding many films, television shows, and actors and actresses for their work this past year.
The night saw a few firsts in Golden Globes history. Sterling K. Brown  took home the Globe for Best performance by an Actor in a TV Series for "This is Us", making him the first African-American actor to win best actor in the TV Drama category. Aziz Ansari also became the first Asian-American actor to win the award for best actor in a TV comedy for his Netflix show "Master of None." Sandra Oh ("Grey's Anatomy") is the only other Asian actor to have won a Golden Globe in television in 33 years.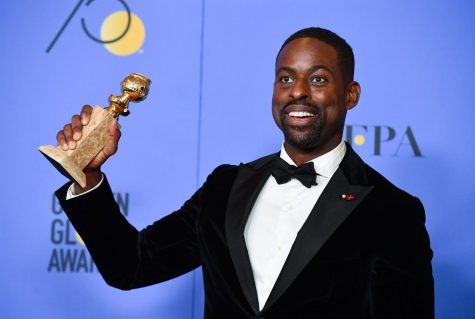 The awards also gave a voice to some of the winning actresses to speak out. Nicole Kidman won Best Actress in a Limited Series for HBO's "Little Big Lies" and dedicated her win to her character's struggle in the show to the current climate that actresses struggle with in Hollywood."I do believe and I hope we can elicit change through the stories we tell and the way we tell them," she said in her speech.
Elisabeth Moss was given the award for best performance by an actress in a TV drama for Hulu's "The Handmaids Tale" and gave a speech that empowered women to tell and create their stories because she believes female characters are breaking through the "white space." Her win, however, was a disappointment to some since many were hoping for Issa Rae to win it for HBO's "Insecure".
Another snub of the night was when James Franco won Best Performance by an Actor in a Motion Picture for a musical or comedy over Daniel Kaluuya for "Get Out" (who many people were rooting for), especially since Franco wore a Time Up pin but has been accused of preying on underage girls in the past, and recently has been accused of assault.
Coco, a story about Mexican culture, won for Best Animated Film and Guillermo del Toro, a Mexican director and screenwriter won Best Director for his film The Shape of Water, which made many people happy, especially those of Mexican descent.
The biggest and most iconic award of the night, however, was the Cecil B. DeMille Award which was honored to Oprah Winfrey, whose incredible and empowering speech was received with an outpour of positive reactions. Oprah was the first African-American woman to receive the award for lifetime achievement. In her speech, she said "For too long women have not been heard or believed if they dared to speak their truth to the power of those men. But their time is up." Oprah's speech was one of the most talked about moments of the night with many applauding her and starting the Oprah for President 2020 trend.
Overall, the night was interesting and entertaining enough, and saw well-deserved wins and disappointing snubs, however, most importantly it seems to have marked a big step towards gender equality in Hollywood despite its hypocritical undertones.