The 2018 SAG Awards
The 24th annual Screen Actors Guild Awards is the continuing the awards season this year by making statements and awarding actors for their work in television and film. It was hosted by Kristen Bell – the show's first ever host – and all the awards were presented by females. Aside from political jokes and female empowerment, the night saw several new winners and many of the same winners from the past two weeks.
Three Billboards Outside, Ebbing Missouri is still sweeping the awards. The cast of the dark drama film was awarded Best Cast in a Motion Picture, while it's female and male leads; Frances McDormand and Sam Rockwell were individually awarded for Outstanding Performance by a Female Actor in a Leading Role and Outstanding Performance by a Male Role in a Supporting Role respectively.
Some of the same winners for film from the past two weeks include; Allison Janney who won Outstanding Performance by a Female Actor in a Supporting Role in I, Tonya, and Gary Oldman who won Outstanding Performance by a Male Actor in a Leading Role in Darkest Hour.
Wonder Woman was the first award of the night and took home the Outstanding Action Performance by a Stunt Ensemble in a Motion Picture SAG for the film's action and stunts.
For television, Sterling K. Brown is still sweeping up awards and making history when he was awarded the SAG for Outstanding Lead Actor in a Drama Series (This is Us) the first African American actor to win the award ever. Brown was emotional about his win, and in his with a heartfelt speech he said, "What an honor it is to be recognized by your peers for a job well done. This room is a source of endless inspiration for me." He was also crying backstage.
This is Us also picked up the award for Outstanding Performance by an Ensemble in a Drama Series while the HBO series Veep won the Outstanding Performance by an Ensemble in a Comedy Series.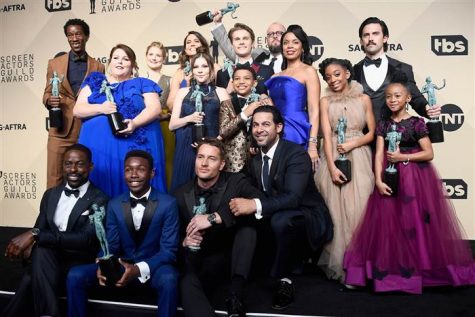 Just two weeks off her Golden Globe win, Nicole Kidman won her first SAG award for Outstanding Performance by a Female Actor in a Television Movie or Mini-series for her performance in HBO's Big Little Lies. Her co-star Alexander Skarsgard also won the male equivalent of the award. And while she couldn't attend the show amid her cancer treatment, Julia Louis-Dreyfus won Best Performance by a Female Actor in a Comedy Series for Veep, making her the most decorated SAG award winner ever with nine wins. She tweeted her thanks on Twitter and congratulated her cast on their win as well.
During the show, Morgan Freeman was awarded the Life Achievement SAG Award for his 54 years of work. He was presented the award by Rita Moreno, who he also presented the award to five years earlier. In his speech, the beloved 80 year old actor took the time to thank his family and fellow actors, and mentioned how much the award meant to him., he even criticized the "gender-specific" award, but he was overall grateful to have been recognized for his work.
Given how the SAG Awards is a good indicator as to who may or may not be nominated for the Oscars, in the next few weeks one of these winners may be winning a little gold statue instead of a blue one.