The 2018 Grammy Awards
The 60th Annual Grammy Awards, hosted by The Late Night Show host James Corden, was last week and held this year in New York City at Madison Square Garden. It was a big night for many new and older artists alike, and a night with quite a few highlights.
Alessia Cara took home the first big award of the night which was Best New Artist. However, many viewers considered this a snub since she's been around since 2015 and many believed the award should have went to up and coming Neo soul singer SZA. Alessia also performed with rapper Logic and singer Khalid in a moving performance of the rapper's song "1-800-273-8255", a song about suicide prevention.
It was a huge night for Bruno Mars who won all six Grammys he was nominated for, including Record of the Year for his album 24k Magic and Song of the Year for his radio hit "That's What I Like". He also gave one of the best performances of the night of his 90's throwback song "Finesse" with rapper Cardi B, who was also twice nominated for Best Rap Song and Best Rap Performance.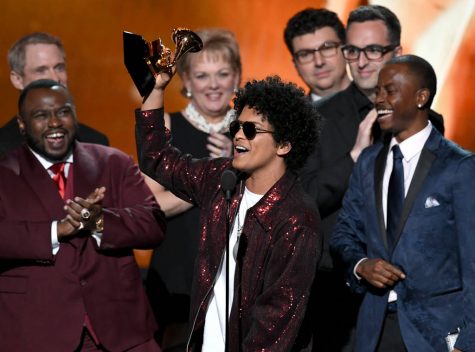 Jay-Z, who was the most nominated artist of the night, with eight nominations, went home empty handed. Kendick Lamar, however, opened the show with a powerful performance with rock band U2 and comedian Dave Chapelle, and was also the second most awarded artist of the night, dominating the rap categories with five Grammy wins including Best Rap Album, Best Rap Song and a joint win for Best Rap Collaboration with Rihanna for "Loyalty".
The show also took the opportunity to recognize and represent the #MeToo and Times Up Movements. Many of the attendees wore white roses on their dresses or suits in honor of the movement. Janelle Monáe, an actress and six-time Grammy nominated artist, used the opportunity in her introduction speech for Kesha's performance to acknowledge the problem and movement head on. "We come in peace, but we mean business. And to those who would dare try and silence us, we offer you two words: Time's up. We say time's up for pay inequality, time's up for discrimination, time's up for harassment of any kind, and time's up for the abuse of power" she said in her speech. "Because, you see, it's not just going on in Hollywood, it's not just going on in Washington — it's right here in our industry as well. And just as we have the power to shake culture, we also have the power to undo the culture that does not serve us well." Kesha, a victim of the music industry, performed a powerful and moving performance of her song "Praying" with several other female artists and the Resistance Revival Chorus.
And of course, at an event as big as this, there were jabs at America's current political climate and president. In the middle of the show James Corden premiered a a hilarious skit he did with several celebrities reading from Michael Wolff's "Fire and Fury: Inside the Trump White House," a book about Trump's first year in office, including a surprise appearance from former presidential candidate Hillary Clinton.
The show suffered some hit and misses. Aside from some of the snubs, at times it tried too hard to be funny or it dragged on in some parts when it should have already moved on already, and there's also the annoying fact that only ONE female artist won a Grammy, despite the shows praise for gender equality in the music industry. But overall, it was a good year for music, and hopefully next year's Grammy awards will be a bit more entertaining and progressive.