New Horror Movie: The Curse of La Llorona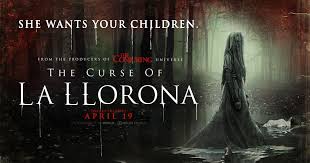 The new horror movie La Llorona hits close to home for many Hispanics. Several of my childhood memories include my older siblings telling me about 'La Llorona' and how she was going to steal me away from my family, just to get a reaction out of me and have a laugh. The tale is extremely common amongst Mexicans as the legend originated there.
The folktale follows a woman named Maria who lives a happy life with her husband and her two young children by a river. Her life seems to be going well until she finds out about her husband's affair and in a fit of rage, Maria drowns her children in the nearby river. After she has realized what she had done, it was too late and she could not get her children back. This causes her to drown herself as well. It is said that Maria's miserable spirit continues to search for young children to replace the ones she lost. Her cries can be heard from miles away and it is said if you hear those sounds, it means she is nearby and looking for her newest victim. This caused locals to begin referring to her as 'La Llorona,' which translates to the weeping woman in English.
The movie is based upon this legend and the main character who is located in California and witnesses the death of two children she had known well by La Llorona. In the end, it leads to her own children being in danger of being killed next by her. The movie has become very popularized since its release and has good reviews for being very scary. This movie is particularly special for bringing a legend to the big screen which has been well known for countless of years.