Supernatural – The End of an Era
After 15 long years, The CW's current longest-running show, Supernatural, has come to a shocking, controversial end.
Supernatural was first released on September 13, 2005, on The WB, before the channel announced in January of 2006 that they would become the CW. The show stars Jared Padalecki and Jensen Ackles, who play Sam and Dean Winchester, two brothers who took on the family business of hunting supernatural creatures, primarily the one that killed their mother when they were children. 
The show came to an end on November 19th, 2020, with a two-hour series finale. The two hours were broken down into two episodes. The first episode was the cast and crew explaining how this show came together and reminiscing about older seasons. The second one was the controversial final episode. Many people have been calling the ending of the show "one of the worst" or "the worst ending to a tv series." People have compared this ending to the ending of both Game of Thrones and The 100, both of which had controversial endings as well.
This has gotten a lot of backlash due to the fact that the fan-favorite, Castiel, was not included in the final episode. Many people have complained over the years that Castiel was not getting treated the way he deserved, which was upsetting to many since they think the reason why this show was extremely popular the last decade was because of him.
"and let me tell you if it wasn't for the angel Castiel, aka Cas, this show would have ended 9 or 10 years ago," One Twitter user posted.
Castiel, played by Misha Collins, first came into the show at the beginning of season 4. 
Another reason why people have not been too satisfied with the ending was because of what happened to both Sam and Dean. But, for the sake of not wanting to spoil the ending, I won't be including what happened to them.
Even though there was a good portion of the Supernatural fandom that were not satisfied with the ending, many others were.
One Twitter user replied to a Supernatural Twitter post saying, "#ThankYouSupernatural it was a beautiful ending and really did the story justice." Another user tweeting, "… it was an emotional and crazy ride!"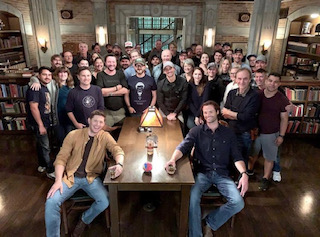 Jared Padalecki is set to star in the new CW TV series Walker, which airs in January of 2021.