Student Spotlight: Cara Sampson Takes the Lead
In the nick of time, Santaluces' marching band became a new major for Cara Sampson. When the former drum major left the school for John I. Leonard, Sampson took her place.
The previous drum major,  junior Melissa Ward, left the school just two days before Invitationals – a competition hosted by Santaluces. The day before, Sampson stood up to the plate to take the role and guided the Marching Chiefs to a successful performance on Saturday.
Being a drum major is a high honor that requires the student to be dependable and have strong leadership. A drum major leads the band, telling the players where to go, what time to keep, and what to play. Not only does Sampson have to know the music, but she also has to memorize what cues to give other band members.
"I feel like Cara becoming drum major is a good change for the band," said Andrea Jara, a senior in band. "She's pushed us to think more positively, and to not let anything bother us."
Sampson has been in band since sixth grade year playing the clarinet, and has been a Marching Chief since freshman year.
"It's like a huge family," said Sampson. "The people in it support you so much and love you unconditionally."
Besides being Santaluces Marching Band's newly appointed drum major, Sampson is also co-president of the school's Gay Straight Alliance (GSA) and secretary of musical theater, as well as being a member of National Honor Society and the Florida Future Educators of America.
The Marching Chiefs have a big year ahead of them, including the Crown Jewel Competition in Vero Beach, Senior Night, and Districts.
"It's a little overwhelming, especially being thrown into it on a day's notice," said Sampson. "I think we've really come together for the first time this season. I've been learning more and more every day and the band has been so supportive. It's been smooth sailing so far, and I'm just hoping for more of that."
About the Writer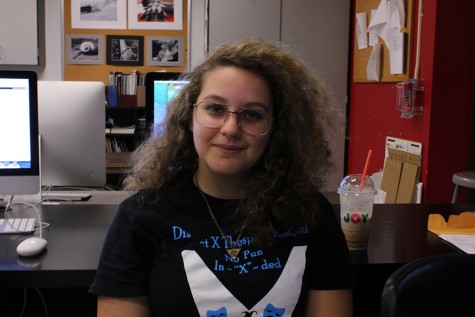 Abbey Brannock, Managing Editor
Hello, I'm Abbey, and I'm a senior. I'm The Tribe's managing editor and this is my third year in newspaper. Besides writing, I love riding horses;...