Student Spotlight: From Couture to Canvas
Eryn Ireland, who was enrolled in the Fashion Academy, continues to excel every day.
Students who have been at the school for more than two years may vaguely remember the Fashion academy. Senior Eryn Ireland was enrolled in the Fashion Academy at Santaluces for two years, which was the only reason she attended the school, until the previous principal cut the academy. Although the academy is gone, she still wants to pursue a career related to fashion. Ireland doesn't want to become a fashion designer however, she wants to major in fashion merchandising at the the Art Institute in Fort Lauderdale.
"Fashion marketing is the business part of fashion," said Ireland.
She is now in AICE Art & Design expressing herself through fashion illustration. One of her pieces has even made it to the showcase in the 4000 buildings main hallway.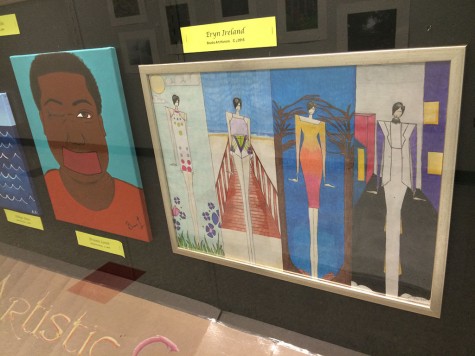 Cajisha Telusme
"She is a very interesting individual," her AICE Art & Design teacher Ms. Ardner said. "Her creativity is so calm and collected. She's got a very unique outlook on things but she's so cool about it."
Most people know Ireland when she's cheering for Chief athletes – she's been a cheerleader for 4 years and a varsity letterman for 3. She's also in the top 10% of Santaluces' class of 2015, being ranked #38 out of around 500 students.
"She is so smart," said senior Ben Fagan.
She is now dual enrolling as well as challenging herself in AP and AICE classes, not allowing herself to fall behind in the rankings or get lazy senior year.
"It's more about doing it for myself and showing myself I can accomplish things," said Ireland. "I don't do it for my parents, or for recognition from teachers and students. I do it for me."
Ireland is intelligent and motivated, as well as having a steady extracurricular activity and a job. She has made a name for herself as a smart and great student as well as keeping her record squeaky clean, remaining on the Santaluces Varsity Cheer team with aspirations of being a leading figure in fashion merchandising.