The Women of Tomorrow Club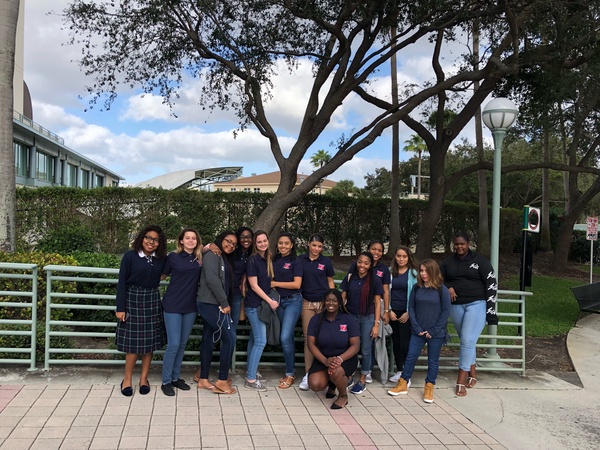 The Women of Tomorrow club took a field trip to the Kravis Center to see a play and have lunch. Guidance Counselor Ms. Neer and Jeanne Ried chaperoned 13 girls from Santaluces on Friday, January 26. The The name of the play was "Sense And Sensibility" and it was based on the classic novel by Jane Austen.
"WOT likes to do nice things the students normally don't get to do," said Ms. Neer. "It's something students may not have been interested in and something young people should be exposed to."
Most of the feedback from the girls in the group on the play was positive.
"I'm interested in the arts already," said Junior Deshanna Maine, who has been in WOT since 9th grade. "I like plays more than movies."
The experience for Maine was "interesting" and she especially expressed her enthusiasm when she got the opportunity to discuss the play with other members over lunch after the play. The girls had lunch in the Kravis Center. Students ate in a room with WOT members from other schools including Forrest Hill and Boynton Beach High schools.
Women Of Tomorrow is a mentoring and scholarship program thats purpose is to inspire, motivate and empower young women to graduate high school and achieve their dreams. Women Of Tomorrow has been proven to be effective as it reduces dropout rates and helps young women recognize that they have the potential to be anything they put their mind to. If you are interested in joining this club, you can visit Ms. Neer in the Guidance office to enquire about the program. Women Of Tomorrow meets once every month to discuss career opportunities and personal experiences and everything talked about between the mentees are confidential. We also go on field trips and there are scholarship opportunities that anyone in the club may be eligible to receive.