Don't Forget to Apply for Bright Futures Scholarship in 2015
It is a busy time of year for Santaluces seniors. Right now is the prime time to apply for the Florida Bright Futures scholarship, and seniors shouldn't be wasting time. Requirements for this scholarship are as follows,

Both scholarships require 16 high school course credits. The Florida Academic Scholars (FAS) award requires a minimum of a 3.5 GPA and at least 100 hours  community service. Meanwhile, the Florida Medallion Scholars award (FMS) requires a minimum of a 3.0 GPA and at least 75 community service hours.The ACT® composite score is the average score across the four subject area sections: English, Math, Reading and Science. Composite scores will be rounded up to the next whole number.The SAT® composite score is the sum of the Critical Reading and Math sections.
However, students must also meet general requirements before seeing if they are eligible for the scholarship itself academically. 
Therefore students must:
Be a Florida resident and a U.S. citizen or eligible noncitizen, as determined by the student's
postsecondary institution.
Complete the Florida Financial Aid Application (FFAA) no later than August 31 after high
school graduation.
 Earn a standard Florida high school diploma or its equivalent from a Florida public high
school or a registered Florida Department of Education private high school.
Not have been found guilty of, or pled nolo contendere to, a felony charge, unless the student
has been granted clemency by the Governor and Cabinet sitting as the Executive Office of
Clemency.
Be accepted by, enroll in a degree or certificate program, and be funded at an eligible Florida
public or independent postsecondary institution within 2 years from the student's year of high
school graduation.
Be enrolled for at least 6 non-remedial semester credit hours (or the equivalent in quarter or
clock hours) per term.
Students must apply for the scholarship by submitting the Florida Financial Aid Application (FFAA) found on the Florida Student Scholarship Grant Programs website beginning December 1st of their senior year and no later than August 31st after high school graduation.
Furthermore, award amounts are as followed,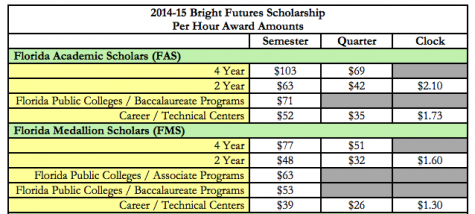 For more information and to apply to the Bright Futures scholarship please visit OSFA. Once on the home page, click on "States, Grants, & Scholarship Applications" on the left hand side of the site. Then click on the second link down labeled, "Bright Futures Scholarship." Next, click on "Student Application" under "Application Quick Links" on the top left hand side of the site. You will arrive at a page labeled, "Initial Student Florida Financial Aid Application." This is the FFAA application you will need to fill out. Make sure to review the student handbook under "Bright Futures Student Handbook" as well as the "Application Essentials" and "Application Checklist" before clicking "Proceed to Application" and filling the form out with the help of a parent or guardian.
If you have any other questions make sure to review the student handbook and the resources provided by the OSFA website. If your questions cannot be answered by this site, be sure to ask your guidance counselor.