Dwyane Wade – Gone For Good
At 17 years old I've been a die-hard Miami Heat fan for as long as I can remember. From the 2005-2006 season with coach Steve Van Gundy, Shaquille O'Neal, Gary Payton and Dwyane Wade ending first over all in the southeast to the 2016-2017 season with a whole new team and coaching staff, and every win, loss and championship in between.
But until 2016, there was always a constant. Always the one player who was at any given moment, the greatest shooting guard in the league, an outstanding teammate, and the undisputed MVP of any game. That man was Dwyane Wade. Any team goes through a multitude of players season after season but after 13 years with the Miami Heat, Wade had the longest run with the team of any other player to grace the roster.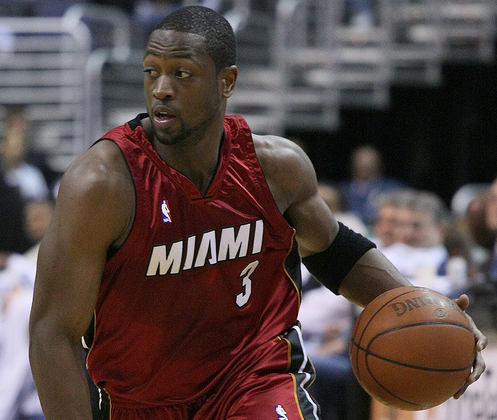 For any young fan under the age of 20, Wade was the center piece of the team. He started his NBA career in Miami and almost everyone would agree that the general consensus was that he would end his career with the franchise.
Despite the fans confidence in Wade becoming one of only three Miami Heat "Lifers," Wade announced in a letter to Miami that he had agreed to join the team of his home town, The Chicago Bulls, on a two-year deal worth $47.5 million. Fans where devastated and confused. Lifetime fans took to the streets to burn Wade jerseys and to the internet to spew hate and threats to the three-time champion.
The public was in general agreement that Dwyane had gone to Chicago for financial reasons. Over his career Wade was known to have taken major pay cuts in order to make cap space to bring on all-stars to the team. Chicago offered him a great salary and many believed that he thought he deserved the pay day for himself.
Another theory that has been wildly accepted by the sore fans was that best friend and former teammate Lebron James was at fault for Dwayne's decision to leave the Sunshine state. They believed that Lebron convinced him to leave the city and "go back home" as he did when leaving the organization in 2014. It was also widely accepted that Lebron had tried to recruit Wade for his 2014-2015 Cavaliers team adding to the speculation that Lebron was behind the move.
Keith Allison
So what is next ? Well, who knows. Wade's deal is only for one year so he could technically leave after the 2017-18 season. But, the reality of it all is that Dwyane Wade is now approaching 36 years old, and in a league as young and strong as the NBA, Wade may not have to many years left in it.
However, one thing is certain, the likelihood of a return to Miami is slim to none. It would be a far stretch to say that Heat fans would be happy to see him back in red and white. And it is unlikely that Miami, with such a young and exiting new upcoming team, would be willing to pay him to sit out his last few years like Kobe Bryant.
There is no denying the monster of a player and teammate that is Dwyane Wade and the contribution he single handily made for the team. After 13 years, 855 games, 20,221 points and three NBA title Championships, Dwyane Wade  has solidified him self as one the best to ever play the game. But now, for the Miami Heat; Dwyane Wade is gone for good.