Tobacco Age Raised to 21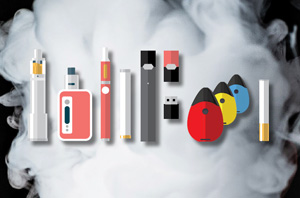 Donald Trump signed a spending bill to raise the federal age requirement of who can legally purchase tobacco products from 18 to 21. This bill will make it illegal for anyone under the age of 21 to purchase e-cigarettes, vape products, and all other tobacco related substances. 
"Personally I feel that the tobacco age being raised to 21 is a good step in the direction of combating nicotine addiction and cigarette use among smokers. But I also feel that this only opens up more dangerous gateways for teens looking to illegally smoke, now having to find fixes for their addiction,' said Narissa Jaquet, a junior at Santaluces.
In recent years the use of vape related products has skyrocketed among teenagers, with 1 in 4 seniors having used a vape in the last twelve months. 54 people have died due to vaping and 2,506 cases of lung-related illnesses have been reported according to the Center for Disease Control and Prevention. Vaping illnesses have been mainly reported among young men and boys, and hospitalization rates peaked in September 2019. A study on 17 patients found that injuries typically come in the form of chemical burns or toxic chemical exposure. 
In terms of natural tobacco products such as cigarettes and chewing tobacco, reports predict that raising the minimum age to 21 will reduce the smoking rate by about 12 percent and smoking-related deaths by 10 percent, which translates into 223,000 fewer premature deaths.
Many states had already raised the tobacco age from 18 to 21; however, up until now, federal law prohibited the FDA from enforcing its rules against retailers who sold to 18-20 year-olds even if doing so was illegal under local law.
There are also those who disagree with President Trump's decision. "I feel like raising the age isn't right because if you are old enough to fight in a war then you should be able to buy tobacco products," said junior, Jada Duncan.
About the Contributor
Sarah Winters, Staff Writer
Hi! My name is Sarah and I am a Junior. I am president of the school Debate Team and enjoy competing in tournaments across the county. I am also a Link...