If you ain't pushin P, you pushin B (DS4 album review)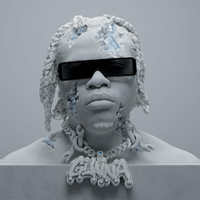 DS4 is an album made by Gunna and is the fourth and last installment of the "drip season" arc.
As a Gunna fan myself, this album was definitely something to get used to. At first, I kind of thought the album was mid. I put the album on shuffle and the first song I heard was, "How You Did That" featuring Kodak Black, and it was a good 7.7.  I felt the album was lacking at first, but then he released the snippets. The song, "Banking on Me" even took TikTok by storm.
Fortunately, the song dropped two days after with the deluxe, but then Gunna unreleased it. Another song on the album, "25K Jacket," is a song that will forever be one of the best in my book. I rate this album a nice 7.5-8/10. I give this rating because it was good, but it could have been better.
There were a lot of songs that just did not hit and he made us wait way too long for some mid songs, but besides the fact, the album was all in all a great ode to what he has done as a rapper. Overall, this album was a great ending for a great era.
Song recommendations: Pushin P (ft. Future and Young Thug), Livin' Wild, You & Me, South to West, 25k Jacket, Too Easy remix with Roddy Rich, and so much more.