COS: Mylena Bressan
Mylena Bressan is currently a Senior at Santaluces. Throughout her years attending Santaluces, she's taken several AICE, AP, and Honors classes. She maintains impressive grades despite the rigorous courses and is involved in many extracurricular activities, including the National Honors Society. Mylena hopes to attend FIU or UCF in the coming year.
When Mylena isn't busy doing schoolwork, she enjoys baking and cooking. She's made several types of desserts including brownies, cake, and flan. "Although I'm not very good at it, it does keep me busy and helps with my stress," she said. In addition to baking, she also enjoys art. She mostly does pencil sketches but will break out the watercolors every once in a while.
Despite her hobbies, quarantine has made life somewhat boring for Mylena. She's been focusing on her schoolwork, looking for jobs, and college applications. Although finding a job has been difficult during this pandemic, Mylena has a small job for her sister's work where she manages a few social media accounts. The one thing she has to keep her entertained is her group of friends. Mylena states "Usually, we go to a friend's house or get food but of course social distancing and being safe. They are probably the reason I'm not bored out of my mind".
In addition to her online Job, Mylena is currently in Boston working for her cousin. She is taking care of children and helping out around the house. Balancing this job with virtual school has proven to be challenging as Mylena says, " I have to juggle school and work by doing school in the morning and taking care of the kids for the rest of the day, which sometimes can be hard". However, She gets to explore afterward which makes her job worth it. Recently Mylena has traveled to Salem and was able to learn a little history. Despite this, she can't wait to return home.
Leave a Comment
About the Contributor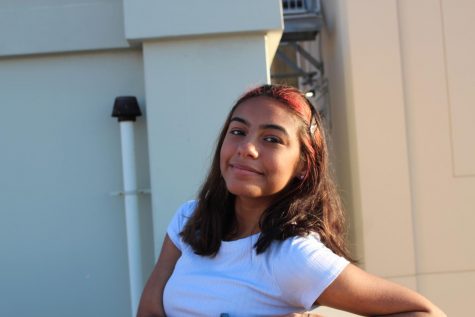 Bellicia Gutierrez, Staff Writer
Hello! My name is Bellicia Gutierrez. I'm a senior and this is my first year writing for The Tribe. I've been playing volleyball for about 6 years...