Taylor Swift's 1989: A Song-By-Song Breakdown
Taylor Swift's latest album was released at midnight Monday morning and has already proved to be a huge success. The album reached #1 on iTunes in less than 12 hours and almost every song on the album made it onto the top 100.
It has been anticipated to be more of a pop album with the release of the single Shake it Off. Swift claims to be experimenting with her music, and this album is a turning point for her career.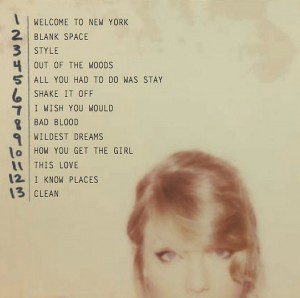 1. Welcome to New York. The first song on the album, Welcome to New York immediately lets listeners know Swift is definitely changing routes, straying away from country and leaning more towards a pop sound. But not the 'Katy Perry pop' you hear on the radio. Swift's song has a more '80s vintage pop tinge to it.
Lyric: "It's a new soundtrack, I can dance to this beat, forevermore. The lights are so bright but they never blind me."
2. Blank Space. This track is definitely different from most other songs Swift has released, with a unique sound (still '80s-related) and a more intricate bass.
Lyric: "I gotta long list of ex-lovers, they'll tell you I'm insane, but I gotta blank space, baby, and I'll write your name."
3. Style. With a very straight-forward title and lyrics like "I say, 'I heard, oh, that you been out and about with some other girl, some other girl,'" it's quite apparent this song is about One Direction member Harry Styles. This song is very much an upbeat, catchy song that will probably be stuck in your head a full day after listening to it.
Lyric: "You've got that James Dean, daydream look in your eye, and I've got that red lip, classic thing that you like, and when we go crashin' down we come back every time 'cause we never go out of style."
4. Out of the Woods. Out of the Woods almost reminds me of a Lorde song. The song sounds sort of haunting and slightly darker than her usual delivery.
Lyric: "The night we couldn't quite forget, when we decided to move the furniture so we could dance, baby, like we stood a chance."
5. All You Had To Do Was Stay. This song was probably the most similar to her usual lyrics, however the beat and chorus vocals are definitely following her new sound.

Lyric: "But now it's just too late, well could've been easy all you had to do was stay."
6. Shake it Off. You most likely are already familiar with this song, it's the one that plays on the radio almost every time you get into the car, and the one that you find yourself singing hours later because you can't get the catchy tone out of your head. Yeah, that one. Shake it Off was the first glimpse audiences got into her new album, released as a single a few weeks ago. This song is definitely refreshingly new, with a unique beat comprised of most instruments besides her usual guitar. Swift also showcases her sassy side with the bridge of the song.
Lyric: "I go on too many dates, but I can't make 'em stay, at least that's what people say."
7. I Wish You Would. I Wish You Would is Tay's typical love-based song, only with this track imagine her lyrics over an 80's pop beat.
Lyric: "I wish you were right here, right now, it's all good, I wish you would…"
8. Bad Blood. Track #8 is another catchy one with a beat that will have you tapping your fingers (Caution, you'll probably get this song stuck in your head).
Lyric: "'Cause baby now we got bad blood, you know we used to be mad in love, so take a look what you've done, now we got problems and I don't think we can solve 'em, you made a really deep cut, and baby now we got bad blood."
9. Wildest Dreams. I don't know if it's just me, but when I listened to this song I immediately thought, Lana del Rey. This track also has a haunted sound, along with vocals that sound like something straight out of the '60s.
Lyric: "Red lips and rosy cheeks, say you'll see me again even if it's just in your wildest dreams."
10. How You Get the Girl. Another successful '80s sounding song, How You Get the Girl still has the sweet T-Swift sound, you will not find yourself questioning who the singer is.
Lyric: "I would wait forever and ever, and that's how it works, that's how you get the girl."
11. This Love. For this song, I think Swift drew influences from the country band Lady Antebellum. Of the songs on the 1989 album, this is one of the slower love songs. Not exactly one that you would listen to in the car, but it still has a soft sound and Swift fans will appreciate the similarity to her previous albums and style.
Lyric: "These hands let it go free and this love came back to me."
12. I Know Places. Just as I said about Out of the Woods, Swift must have channeled her inner-Lorde during the making of this song. The song has a sort of darker sound. And she definitely shows of her vocal abilities in this song.
Lyric: "They are the hunters, we are the foxes. And we run."
13. Clean. Clean sounds similar to Swift's song Sad Beautiful Tragic from her Red album. This song is one of the only that don't follow the whole "'80s pop" style, but still screams "Taylor Swift."
Lyric: "And that morning, gone was any trace of you, I think I am finally clean"