Upcoming Teen Artist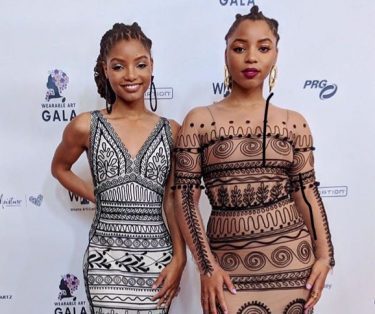 Beyoncé's Protégés Chloe and Halle.
Who are they?   They're a pair of sisters from Atlanta, Georgia who enjoy singing as a duo. They are also protégés of the one and only Beyoncé. They started off singing on Youtube, until they caught the eye of Beyoncé and many others; having over 1 million views. Chloe is 20 while Halle is 18; they started posting online at ages 12 and 11. Their motto is to "Believe in yourself."  At such a young age one wouldn't think they would be opening concerts for Queen B herself and even meeting the First Lady Michelle Obama. Are you envious yet? I am.
What makes them important?  The young women are new icons because they play a role in our generation today. By using music to connect with young people, they have become known to address controversial social issues in their songs and music videos. Their songs are a mixture of R&B and Pop, some of the most relevant genres to our youth today.
Popular Album? "The Kids Are Alright." This album's message is "don't worry about us [our generation], we'll be alright." This alludes to the social and environmental issues, like global warming, which is left to the more recent generations to fix. According to the sister duo, "The album is saying that we're gonna figure it out, don't worry about us". I would encourage people to listen to their music because they are all about uplifting Generation Z. Chloe said in an interview once, "with all the negative things happening in the world today, we're figuring out some way to turn them into positives."
Popular Songs?  Happy without you, Grown,  Fall, Cool Kids, BabyBird, Baby on a Plane..etc
Genre? Commentary R&B
About the Writer
Mahalia Barnes, Staff Writer
My name is Mahalia A Barnes and I'm 17 years old with a passion for writing and sharing my thoughts and ideas with people. I'm a very open person, ready...