My Tour of FGCU
My mom and I took a trip down to Fort Myers to take of tour of Florida Gulf Coast University. FGCU seems to be pretty under-appreciated by Santaluces, seeing as most seniors know next to nothing about it. It makes sense considering how new the school is in comparison with the universities we all hear so much about. FGCU celebrated their 25th anniversary this year and is built on 800 acres that were gifted to them on the condition that they don't develop on 50% of it. This makes the campus beautiful as to get from dorms to classes you can walk across a boardwalk through the nature preserve areas.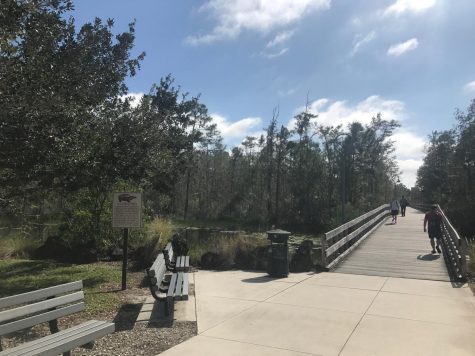 The tour was broken up into two parts: a bus tour and a walking tour. We started at the Welcome Center and drove to Alico Arena. We got to go and take pictures with the statue outside of the arena, a part of tradition the tour guides were enthusiastic to share with us. From there we walked to the gym and got to see all of the sports fields. FGCU does not have a football team, which may put off some people, but they have pretty much every other sport such as soccer, basketball, and swimming. We walked to the library where they told us about the alligators in the lake on campus, which I thought was really interesting.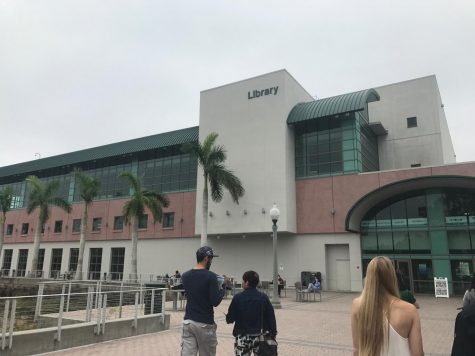 From there we drove to North Lake Village, one of the two on-campus dorms. North Lake is modeled after apartment-style living with kitchens, living rooms, and bedrooms that you don't have to share. They are also planning to build a restaurant themed dining hall where you get to order and have your food brought to you.
South Village is the freshmen dorms, and are more resort based with a pool and buffet style dining hall. One of the things I liked was that you don't have to share a bedroom with your roommate, which is good for people living on different schedules. We had lunch at the buffet dining and the food was better than expected; they had everything from burgers to pasta along with a breakfast section and bakery section.
We got to see the different buildings where classes are held, the most impressive to me being Meireb Hall where they have an entire floor dedicated to simulating an actual hospital, with human simulators occupying hospital beds that are able to bleed. They even have one that gives birth to a baby simulator. The dedication it shows is what is really impressive. This along with the smaller class sizes gives FGCU a compelling argument for any student.
After the tour we were given the chance to walk around the campus and visit the buildings to talk to the advisors and ask any questions about classes.
Overall I thought the tour was great. The guides were nice and gave us a lot of information about the school that I thought was important for when I decide where I want to go for college.