A Guide To Shopping Online
Shopping online can be very intimidating. You have access to any retailer you can possibly imagine, from high to low end, right at your finger tips. It can be overwhelming for anyone venturing into this unknown terrain. Where to start? The endless amount of categories and pages to go through. How to get the best deals? Trying to decide if you should pay full price for an item now or wait until it goes on sale. Who to buy from? Do you go with the primary retailer or opt for a secondary retailer with the same item? These questions boggle in the minds of online shopping amateurs.
With this guide you'll know if your money is really being well spent at any online retailer from Forever 21 to ASOS to Nordstrom. You'll know all the tips and tricks to finding the best deals, minimizing your post-purchase guilt, and avoiding those dreadful store returns. Best of all, you'll NEVER pay full price for anything online again. Companies give us the option of shopping online, so why not take advantage of it and become a professional online shopper.
E-mail Alerts
Signing up for e-mail notifications from your favorite stores is probably the first step in becoming a pro online shopper. You'll be the first to get notified when there is a sale or special offer going on. The only way to know when there is a 50% OFF, BOGO or free shipping with no minimum deal is by signing up and checking your mailbox a couple times a week. They're not as annoying as people may seem and you'll be saving money in the long run.
Pro-tip: Even without E-mail alerts stores advertise their current sales or deals on their homepage or on runners at the top of the screen, so don't overlook them!
Start with the Sale Category
Your first move should be your best move-when is comes to online shopping that is. Always start in the sale category, you'll get the lowest prices on the most current styles. New items get added to the sale category everyday on sites like Forever 21 and and H&M, and they go the fastest so always start there.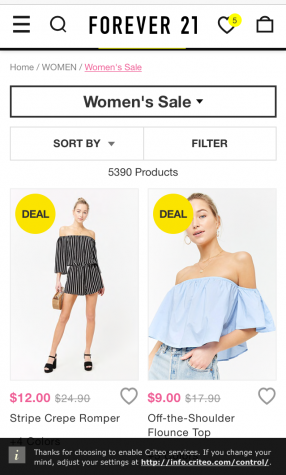 Filter Filter Filter
Filtering is your friend. Who wants to go through pages of clothes and end up not finding what you want or even worst, it's not in your size. Filtering gives you the option to sort clothes by price, rating, most recent, color, and size. You'll only being looking at clothes in your price range and size and skip on the ones that aren't.
Pro-Tip: Filter from low to high price first, so you'll know all the items you're looking at are about the same and get higher with the pages (you'll avoid "price disappointment" this way).
Go by Category
So you're ready to shop the "just added" section of an online store? You'll fry your eyes trying to look at all the new items at once, from shirts, shoes, to jeans. So go by category. Sites like H&M and Forever 21 already organize their items for you so instead of looking at all the tops at once, go by crop tops, blouses, off the shoulder or sweaters. It's less pages to go through and you don't have to look at clothes you don't like or wear.
Pro-Tip: Filter in this section too! You don't want to splurge on too many full priced items. 
Read the Reviews
If your unsure on a item you can always read the reviews. Fast fashion retailers are not known for having super high quality clothes so people who bought before you can tell you if it's worth it. If the reviews are negative don't take the chance. If there are no reviews yet,  check the size guide and product information so you can make the best decision.
Pro-Tip: Be mindful if items have elastic or not, what materials they're made of, and lengths.
The Men's Section Exists Too
You can find some cool pieces in the men's section and they are usually cheaper then women's items. Great for basic pieces also.
Don't Forget Accessories
Never neglect the accessories section. You can never pass up a new pair or earrings, a bag, hats, sun glasses or necklace for not that much money.
Pro-Tip: Accessories can help you reach the free shipping minimum if you need it!
 Google Promo Codes
Before you check out always google for extra promo codes. Sites like Groupon and RetailMeNot have codes you can use to get free shipping and different percentages off when none are being offered. They don't always work but it's worth a try. You can also use websites like Honey that automatically finds promo codes that work for you so you never pay full price.
Congratulations you are no longer an online shopping dummy!