Nailz, Nailz, Nailz…..
Hi, my loves.
I wanted to reach out and say that I know many of us who love to go get our nails done haven't really been able to enjoy that calm and collected free time we love so much due to all the chaos that's going on in the world going on right now.
However, that hasn't stopped our favorite nail techs from creating new ideas within the new year.
From celebs to our classmates, co-workers, and friends, many of us have started to follow and spread the new upcoming trends such as the famous rhinestone French tips, airbrushed old schooled hearts, spiral out coffins, x-out smiley faces, and many more!
Many have even started to make more creative, attention-grabbing nail charms such as the big see-through teddy bears, Zodiac signs, and different color Fuzees and butterfly charms, leaving many to wonder who started these trends.
Well, I have news for you, love! The nail techs behind these beautiful creations come from all over the world.
Starting with my favorite Marie-Nailz, all the way from Los Angeles; Marie who is known for amazing creations on our adored Celebs such as Cardi-B, Black Chyna, and Cuban-Da-Savage.
She is the number nail tech responsible for the beautiful birth of our beloved spiral-out nails and attention-seeking crystals. However, not only does Marie fulfill her clients' wildest dreams when it comes to nail art, but she also teaches many aspiring nail techs all over the world.
She is the key to success within our beauty industry.
But why stop there, huh?
Deenailzz is another beloved nail tech of mine based in California. Deenailzz is the nail tech primarily responsible for the breathtaking creation of air-brushed, old-school hearts.
Serving a little old-school 90s baby theme, giving all who were born in the 90s a major flashback of their high school picture backgrounds and memories.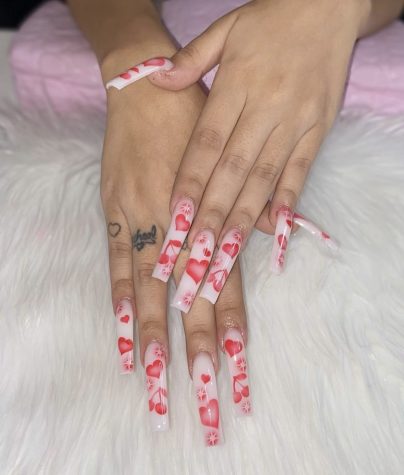 This, in turn, makes her even more loveable because of an idea that was never brought out to the beauty industry until now.
Not only does she do nails, but she also owns and maintains an online business where she transforms many of her gorgeous nail creations into press on nails for those who like the option of being able to take and apply the nails whenever they want, or even for many who don't have access to her in regards of different locations.
Last but not least, known as Brother-Nail-Tech on Instagram, is yet another one of my beloved nail techs.
Widely known for his beautiful French tip creations, Brother has made his way through the beauty industry showing all that the nail game isn't just meant for just females.
Coming soon, Brother has yet in fact sought out to create a new source of acrylic nail powders This would provide all nail techs with a beautiful, smooth base for any of their desired art designs, paving a new wave into the beauty industry.
However, my loves, to end this beautiful era, many of these talented nail artists play a key factor in our forever developing nail beauty industry.
Creating a home for many of us aspiring to become a nail tech, or for those who have done it for years, all support in the new wave of these upcoming nail creations play a part in the expression of a new wave of talent.
So, let's take the time out of our day to show appreciation for the hard work and dedication they put into their work and sharing of ideas with us at home. Until next time my loves!
Many more other beautiful nail tech's work, I adore!
Artist's Instagram's:
Nails need love too ❤️ (@yurilovesnails) • Instagram photos and videos 
MarieNailz❣️ (@marienailz) • Instagram photos and videos
Deenailzz LLC 💫 (@dee_nailzz) • Instagram photos and videos
Brother (@brothernailtech) • Instagram photos and videos
𝑮𝒍𝒆𝒆𝒇𝒖𝒍 𝑻𝒊𝒑𝒔𝒔 𝑳𝑳𝑪💎 (@gleefultipss) • Instagram photos and videos
• 𝐌 𝐀 𝐍 𝐈 . 𝐂 𝐔 𝐑 𝐄 𝐒 𝐒 𝐋𝐋𝐂 • (@mani.curess) • Instagram photos and videos
@nailzbyjacqueline • Instagram photos and videos
nailsbyjocelyn (@nailsbyjoce951) • Instagram photos and videos   
, ✨(ノ◕ヮ◕)ノ*:・゚✧ (@nailsbyjakey) • Instagram photos and videos