College Games to Watch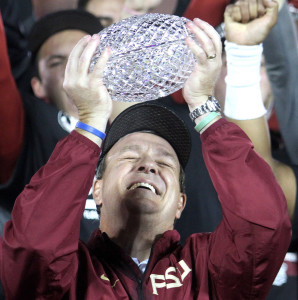 Courtesy of MCT Campus
The college football season is back, and better than ever. New quarterbacks, new players, and even new coaches. This opening weekend should start out the season with a bang. Teams are hoping to make a statement this weekend and here are some games to be on the lookout for.
3. University Of Miami (FL) vs University Of Louisville – True freshman Brad Kaaya will be getting the call this game as a true freshman. The 6'4″ 215 pound quarterback hopes to impress on his college debut and was a top selection and a good commit from Al Golden. Duke Johnson will also be coming back for the Canes' after suffering a season-ending injury last season against Jameis Winston's FSU. For the University of Louisville, Sophomore Will Gardner will have quite the shoes to fill after former quarterback Teddy Bridgewater was drafted by the Vikings in this year's draft. Not only that, but the University of Louisville also took a huge blow to the stomach, WR DeVante Parker Will be out for up to six to eight weeks due to a broken foot. Other than that, this game should be an elite matchup by these two college football heavyweights.
2. Florida State vs Oklahoma State – Redshirt Sophomore Jameis Winston will look to improve on last year's season of the ages. The Heisman winner led his team to a 34-31 win over the Auburn Tigers in last years BCS National Championship Game. Although many players from FSU left for the NFL, the Noles have signed some top class athletes this year and will look to turn them into top notch football players that will help the Seminoles down the stretch. On the other side, Mike Gundy's Cowboys will look to improve this season and work their way up the Top 25 Polls. Junior J.W. Walsh gets the call for the 1st game of the season against the champion Seminoles and has high expectations for this game.
1. Texas A&M vs South Carolina – Now this will be a Marquee Matchup. Texas A&M's new quarterback Kenny Hill will have to step into the big shoes of Johnny Manziel and is expected by coach Kevin Sumlin to fill them. After the A&M icon Manziel left the school, they knew they would have some shoes to fill. He has a whole school on his back and claims he is not really nervous at all. But, the quarterback hopes to carry "Johnny Football's" legacy in to this season. On the South Carolina side, the GameCocks took a big hit after Senior Connor Shaw left. They are now relying on Redshirt Senior Dylan Thompson to bring the GameCocks possibly to an undefeated season and topping it off with a College Football title.