Where Is the Outrage Over Russia's Detainment of WNBA Star Brittney Griner?
For those who haven't heard by now, WNBA star—arguably the greatest WNBA player of all time—Brittany Griner has been detained in Russia amid allegations that she was carrying vape cartridges containing oil derived from cannabis. The charges could result in a 10-year prison sentence. In Russia.
Russia, in case you haven't been paying attention, is currently a global pariah facing strict international sanctions because of its senseless invasion of Ukraine and the thousands of innocent civilians who have been killed or forced to flee their homes because of it. It's also a country with horrendously discriminatory anti-LGBTQ laws and a country in which racism and gender inequality toward women is a societal norm. It is now a country where an openly gay, Black American woman is being detained for allegations of which she has yet to be convicted.
The 6'9" center for the Phoenix Mercury arrived in Russia before the start of the Ukraine invasion along with other WNBA players who regularly play overseas during the offseason to supplement their income. Griner was immediately detained, however, news of her situation only gained some media traction after the start of the Ukraine invasion—long after her other WNBA teammates had arrived back in the States. This begs the question, why? It's fair to assume that if this were a high-profile NBA player, headlines would have screamed from every media outlet in existence and fans would be pleading for the government to do something to get them back home. Why is it so different for a female athlete who is among the best in her field?
Some will certainly argue that her situation does not warrant political intervention. They will chalk this up as her own doing and insist she face the consequences for her actions. After all, history has already indicated that the forgive-and-forget mentality we apply to the crimes of male athletes of equal caliber has never been applied to female athletes even with far less serious crimes. The most recent example that comes to mind: Track star Sha'Carri Richardson was banned from the Olympics for a positive drug test, while fencing athlete Alen Hadzic and his SIX SEXUAL ASSAULT charges were permitted to travel to Tokyo to participate in the games. Seriously?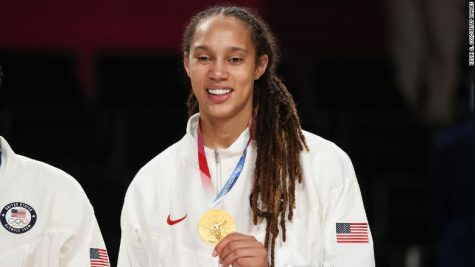 It's also telling that no one seems to be questioning the timing of her detainment. If Griner was in fact in possession of the items in question, one could easily speculate that this was not unusual as she frequently traveled to Russia to play and is familiar with the customs process. It would seem suspicious that she happened to be detained for it this time around—shortly before Russia invaded Ukraine, knowing full well that doing so would damage their European and North American relationships and they may need leverage at some point. IF that were the case, it seems they may have miscalculated if the muted reaction among media outlets is any indication.
As ESPN reported, Russia has extended her detainment until May 19, and that doesn't necessarily mean she will be back on U.S. soil then. It just means her case will move forward at that time—unless it gets delayed further. News about Griner's prison conditions and treatment were vague at best until the U.S. was finally granted consular access to the WNBA icon on March 23—well over a month after she was taken into custody. According to the report from Reuters, Griner is doing as well as can be expected under the circumstances. Nonetheless, we can keep hoping for her swift return to the U.S., but apparently we should do so quietly.