David Perez: Class of 2020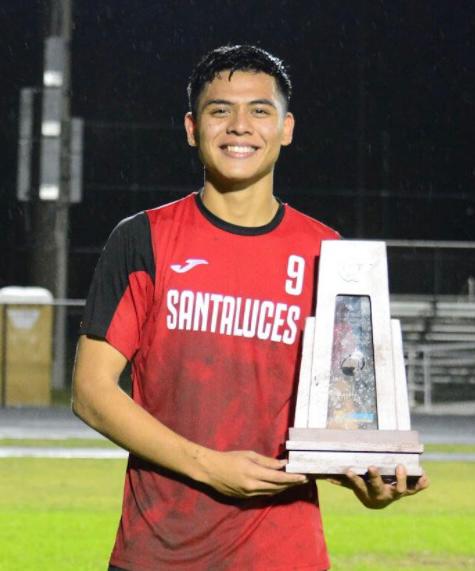 I was able to interview David Perez, a Santaluces graduate of the class of 2020, last week. With the trouble that came with the pandemic and going into quarantine, David wasn't able to experience the full high school graduation experience that he was looking forward to.
However, that didn't stop him from reminiscing about the past 4 years. 
"Although it did eventually get under my skin, I had visions of me walking down the stage with my family watching me from the audience."
David always participated in sports, specifically soccer. He tried out all four years and made it in every time. "I was active in playing soccer. For two years I was in JV, and in my last 2 years, I finally made it to Varsity." He was pretty well known for playing soccer. During his JV years, he would get called up to play for Varsity.
He was also in the JROTC academy and at some point, he took a shot at track. He was overall a very active athlete.
Throughout the years, David experienced many memorable moments. He had trouble telling me his most memorable moments without making a whole list, but he did break it down to two.
"As far as academics, I didn't have any memorable moments. I was your regular Honors kid, but I would like to say that I was the top goal scorer for my JV team in my Freshman year. It was my first time playing, so I didn't expect it to start off so good so quickly."
Even so, David had the privilege to experience Santaluces's first Varsity Soccer District Championship in 2019.
"Of course, I would have to add winning the Varsity District Championship for Santaluces for the first time in history, and scoring as well in the finals," he states. "This was a huge achievement for me; I never felt happier on that day."
David now continues to further his education at Palm Beach State College. He will be graduating this year with his Associate's degree. "Right now, I'm in the last term for my Associates. My major is Architecture, and I have two more terms left before I transfer to FAU in Fort Lauderdale."
Before ending the interview, I asked if he had any advice for our high schoolers and I have to say, it's pretty useful.
"Just continue to keep a balanced lifestyle. Don't procrastinate. Make decisions for yourself and no one else. Never settle for less!"