Athlete Profile: Kendra Bentley
Kendra Bentley is no stranger to the basketball world, and many people who know her will say the same thing.
She brought Tradewinds Middle School girls' basketball team to a championship and is currently on her way to do the same for Santaluces High School. Averaging nearly 30 points a game, you will remember her name after seeing her on the basketball court.
¨I have been playing since I was five, but I started playing co-ed leads in the second grade.¨ Says Kendra. She says her love for basketball has not changed and has always stayed the same since she was a child. Kendra has followed in her brothers' footsteps and chose to wear and love the jersey like them.
In her Freshman year alone, she had already made an impact on the Girls' Varsity Basketball team. She was also recognized as one of the best female basketball players in Palm Beach County.
When Covid hit, it impacted everyone, including Kendra. She stated, ¨I didn't play for a year. It made me gain weight and I had to relearn things that were tough on me.¨
Overall, basketball has changed Kendra's life and helped her stay on the right path. She also credits basketball for helping her stay balanced. If she is ever angry or unhappy, she goes and plays basketball.
Kendra proudly told me about one of the greatest days in her life. Her team in middle school was still developing into a good basketball team when she got there. She states, ¨My third year we finally won districts and county. We went 13-0 and even got a banner. That was one of the greatest days of my life, because when my brother played, he got all three years of district and I was finally able to get my name up there with him.¨
Kendra even told me a little about basketball, which I know nothing about, and said basketball is definitely a team sport and she wouldn't be here without some of her teammates.
Her goal after school is to get an offer, and if not, to get into FAMU, which is one of her dream schools. She plans on majoring in nursing and becoming an OB/GYN.
Leave a Comment
About the Contributor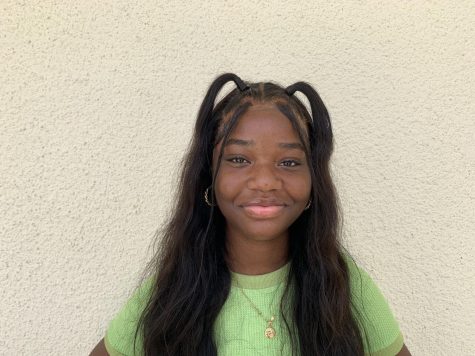 Estephania Cherilus, PR Manager
Hey! I'm Estephania, but most people call me Steph! This is my second year with The Tribe. I am an officer of BSU, Key Club, and also here, which is the...