Athlete Profile: Will Prichard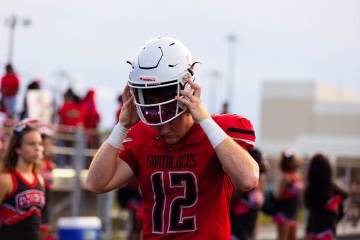 Today I had the opportunity to interview Santaluces star quarterback Will Prichard who is having the season of his life leading the Chiefs to a current 8-0 record.  He talked about the school year and how the season is going with the team and his hopes for the rest of the season.
How do you feel the adjustment from going from a private school to a pretty big public school has been?
"I think it was very easy, I think King's Academy prepared me well to thrive and succeed in life, but Santaluces is also preparing me for college as much as possible.  The administration is amazing and so are the teachers and students; they make sure that everything is good for us, so I think that the transition is easy."
How does it feel knowing that the Santaluces Chiefs football team is undefeated?
"I'm very excited, but this is nothing new to me. I've been undefeated before, so I know what it takes to get there and make it to a state championship, so we just have to keep working and take it one week at a time."
How does it feel to be leading the state in passing yards?
"It feels great to be recognized as one of the best in the state, but I have to keep working because nothing is cool until you get to college so there is a lot more work to do.  I'm thankful for my teammates for making me look good."
Will Prichard is looking to lead the Chiefs to their first ever undefeated season, and currently at 8-0, The Chiefs can definitely keep their winning streak alive and make the playoffs with a perfect record!