Olivia Rodrigo: The next big thing for decades to come
Her voice, her songwriting, her style, and literally everything else about her. Olivia Rodrigo is a seventeen-going-on-eighteen-year-old whose talent is going to land her in big places. In addition to her ongoing acting career, Rodrigo is also pursuing a new career in music–or should I say taking over the music industry.
On Friday, her debut single "driver's license" was released with a phenomenal music video. The song's lyricism exemplifies Rodrigo's extraordinary songwriting abilities through the use of beautiful imagery, which, coupled with the stunning visuals of the music video, make for an entire cinematic experience. This alone could be enough to prove Rodrigo's talent, but her vocals and the production on the track make it even better–if that's even possible.
I've been a fan of Rodrigo for just over a year now and I've loved all of her short clips of original songs on her Instagram, but this song just adds to my obsession with her. The fact that she's only seventeen–SEVENTEEN!–and wrote a song as amazing as this completely proves that she will utterly destroy the music industry for years to come.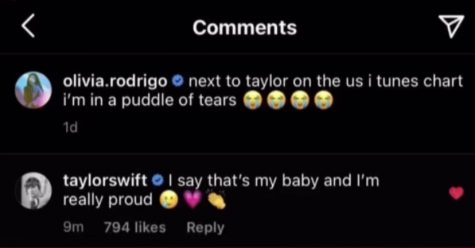 The music video for "driver's license" already has 7.5 million views on YouTube, and is currently at #1 on Spotify's US Top 50 and iTunes, surpassing Taylor Swift's most recent releases. Speaking of Swift, the 31-year-old star is a major influence on Rodrigo's music. Rodrigo's talent even earned her a comment from Swift herself.
"That's my baby and I'm really proud," says Swift.
Rodrigo has starred on Disney Channel's "Bizardvark" and Disney+'s "High School Musical: The Musical: The Series", whilst tending to her music. During her first season on the latter, she was able to write "All I Want," which went viral on TikTok, as well as co-write "Just for a Moment" with her co-star Joshua Bassett (whom "driver's license" is speculated to be about) for the musical series.
If "driver's license" isn't enough for you to join the Olivia Rodrigo fandom, just wait until her EP comes out later this year.
Watch "driver's license" here.
Leave a Comment
About the Contributor
Kylee Johnson, Editor
Hi there! My name is Kylee and I am a senior this year. This is my first year working for The Tribe and I'm super excited to be able to help capture the...