Catching the Chief Spirit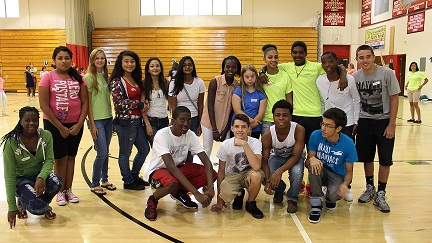 About 400 members of the Class of 2017 poured into the gym Monday for the fourth annual Freshman Orientation. The Marching Chiefs, the Color Guard, Link Crew members, and cheerleaders formed a welcome line to cheer on the freshman who walked into the gym early Monday. 
  Mr. Livingston played host, helping them feel at home and leading them in Simon Says and the wave. The boys and girls battled in a balloon relay with the boys winning. Then the freshmean broke out into small groups lead by their Link Crew leaders.
"My crew members helped me to be less nervous and let us know they're here to help us," said new freshman Farah.
Link Crew leaders played ice breaker games to help freshmen open up about themselves and get to know each other. For many, they walked into the rooms as strangers and left as new friends.
"My crew leaders are inspirational and have me thinking out of the box," said freshman Eric.
The nearly 100 Link Crew members are juniors and seniors selected by adminstration. Many are members of the student government association, SGA.
"We want to make sure it's easy for them to transition without getting scared," said senior Brittany Davis. "We want them to pay it forward."
At the end of the four-hour orientation, freshmen were encouraged to leave the bleachers and dance on the gym floor.
"It was pretty fun to pass on the knowledge that I have," said senior Frank Barker. "I took the advice for granted at first but I found out it was all true."
View Comments (2)