Blackout at the Golden Globes
The 2017 Golden Globes was a vision of black for a good cause. All of the honorees, female and male, wore black in support of the #TimesUp movement to denounce sexual assault and harassment, which is prevalent in the entertainment industry. Not only is it a good cause, the blackout on the red carpet was unifying. The otherwise somber black color showed strength and empowerment as it was wore in so many different silhouettes, cuts, styles, and fabrics. The TV stars looked youthful and elegant. It's refreshing to see so many variations of one color and a great way for designers to display their work and be appreciated more due to the lack of contrasting colors and prints. Despite all the awards given out that night, the real winners were the voices of so many suppressed women and men; all with the help the fashion.
Here are my  favorite looks of the night followed by a gallery of others with showstopping looks.
Issa Rae                                                
This flirty and feminine dress looks amazing on Issa. Her stance looks strong and powerful.
Halle Berry 
The 51 year old actress looks young and vibrant in this short bell sleeve dress. The brown lace detail gives off a skin like look.
 Zuri Hall
This look is perfect for a young influencer. The mesh sleeves and long skirt compliment each other.
Oprah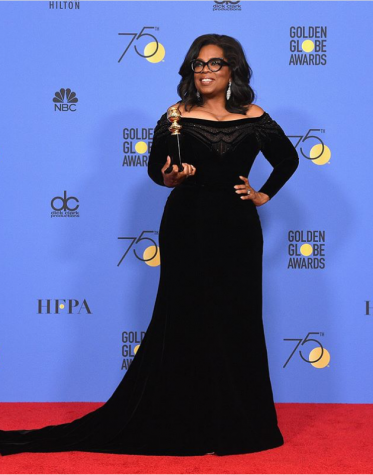 Oprah looks regal and elegant in this simple dress. The way the off the shoulder-dress fits her is why this look is a showstopper. Also, the thick rim glasses is the perfect accessory.