You're Not Entitled to Anyone's Sexuality
In the last few years, it seems as if the internet thinks it's entitled to know about everyone's sexuality at all times. I'm here to [unfortunately have to] remind you that you're absolutely NOT entitled to that.
In the last few days, "Heartstopper" start Kit Connor's name has been trending on social media after coming out as bisexual. According to him, it wasn't of his own volition.
"Back for a minute," he tweeted. "i'm bi. congrats for forcing an 18 year old to out himself. i think some of you missed the point of the show. bye."
Connor plays rugby star Nick Nelson, who explores his sexuality throughout season one and starts a romantic relationship with Charlie Spring. At the end of the season, Nick came to terms with his bisexuality and came out to the people in his life on his own terms.
Connor left Twitter around a month ago after he received unnecessary harassment after being accused of queerbaiting. This happened after he was spotted holding hands with Maia Reficco, a co-star in a new film he's starring in based on the novel A Cuban Girl's Guide to Tea and Tomorrow. Some "fans" believed that his playing a bisexual character on a show meant he was queerbaiting in real life because he wasn't with another boy.
Connor had come out earlier this year stating that he doesn't label his sexuality, meaning that this entire backlash was absolutely unnecessary and completely childish. "Heartstopper" creator Alice Oseman also made sure to cast actors resembling their characters in every way, meaning she cast queer actors for queer characters.
Still, it gives you no right as a watcher to know his sexuality.
"I honestly hate the aspect of coming out itself," says a Senior here at Santaluces. "People shouldn't have to 'come out'; coming out should be a personal thing. It's someone's decision to tell whoever they're comfortable telling. It only became a thing because being part of the LGBT community is such a crime to society, we're forced to have a certain way of telling everyone our business… if people are comfortable expressing themselves, that should be enough."
Unfortunately, Kit Connor is not the only one who has fallen prey to the queerbaiting accusations.
Celebrities like Harry Styles, Billie Eilish, Taylor Swift, and Shawn Mendes have either been accused of queerbaiting, or are being forced to "come out."
Styles has stated he doesn't label his sexuality.
As for Swift, a portion of her fandom believes that she's queer and is using her music to come out because she's being "stopped" and "forced" to stay in the closet. Swift has been in a loving relationship with actor Joe Alwyn for the past six years. Her 2019 "Lover" album was pretty much an entire love note to him and their relationship.
One thing that needs to be known is that queerbaiting cannot be used to describe a real person. Queerbaiting is when writers and producers intentionally hint at a FICTIONAL LGBTQ+ relationship, but never actually follow through with it. They do this in order to gain a queer audience without risking "offending" and losing their straight audiences.
A real-life person cannot queerbait you, and you also can't say they're queerbaiting you.
You're not entitled to know anyone's sexuality, and you certainly have no right to force them to come out if they are part of the community.
Coming out is something that someone has to do on their own terms, without having to feel forced to come out. It should be a beautiful thing that someone does, and it's a milestone for them.
The parasocial relationships some online users have formed with celebrities and influencers make you think that you're entitled to know everything about them, from their sexuality to their love life, but you're not. You're a stranger to them, and strangers have a right to nothing from you.
Despite the small demographic of "Heartstopper" fans that forced him to come out, Connor has received love and support from his castmates and fans.
Twitter user "EDDIEBEGINS" tweeted saying, "accusing kit connor of queerbaiting people just bc he was seen w someone of the opposite sex is proof that you guys don't consider bisexual people 'queer enough' unless they're dating the same sex"
Co-star Joe Locke, who plays Charlie Spring in the show, replied to Connor's coming out tweet stating, "You owe nothing to anyone. I'm so proud of you my friend"
My heart goes to Kit Connor and anyone else that has been forced to come out before they were ready. It's not something anyone should have to go through.
Leave a Comment
About the Contributor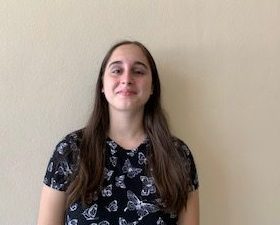 Azzurra Degliuomini, Editor
Ciao! My name is Azzurra, and this is my third year on The Tribe and second year as Editor. I enjoy reading and writing, which you'll most likely be able...