Athlete to Watch: Haley Hinkofer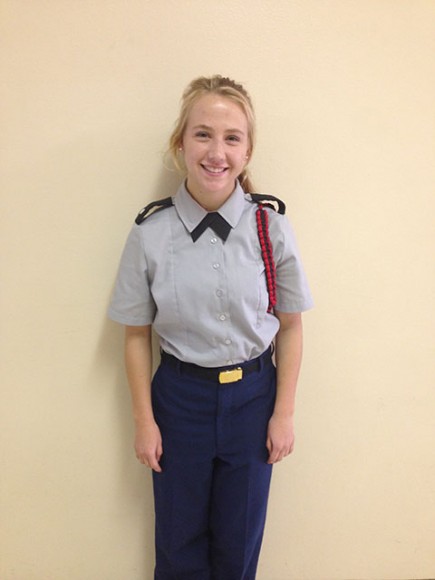 As winter sports come to a close, the wrestling team is continuing on stronger than ever. Wrestling Chief, sophomore, Haley Hinkofer is one of three of female wrestlers we have on our team. This is Hinkofer's first year wrestling on a high school team and she's already making a name for herself on Varsity.
This past Saturday (January 24th) Hinkofer went down to Hollywood, FL to compete in the first all female wrestling tournament at McArthur High School. Coming out in 3rd overall, her coaches couldn't be any more proud of her.
"I could have done better, but that just makes me war to do better next time,"  says Hinkofer.
Coach Franco says, "She should've been placed 1st, if anything, at least 2nd, if it wasn't for her 2nd blood time out."
On Saturday Hinkofer ended up getting a bloody nose, consequently having to step out for five minutes, allowing her opponent to automatically win the match.
"She should've won that tournament," says Franco.
Hinkofer, being a female and weighing probably no more than 120lbs, is a beast on the mat. As everyone knows wrestling is usually a male-driven sport, but nothing seems to phase her when competing against mostly male opponents.
"When I step out on the mat I know, I'm the 'underdog' you could say. The guys I wrestle are much bigger and usually stronger than me," says Hinkofer. "But when I go out there and just shake hands I just give it my all. Competing with guys makes [me] stronger and better."
All three girls on the team, including Hinkofer, are treated as fairly as any other wrestler with no special privilege based on their gender. Apparently, (according to teammate Alex Blitzer) at one of the meets when Hinkofer walked up to a male opponent on the mat when he questioned "Am I really wrestling a girl? Is this a joke?" and started laughing. Hinkofer pinned him down and within-not even in two minutes, she got up and asked, "Who's laughing now?"
"Wrestling is all fun and games until you get your butt kicked by a girl," says Junior, Alex Blitzer, a fellow wrestler.
Hinkofer's all time favorite move is The Double Bar where she gets to finally pin her opponent to the mat. The Double Bar consists of when one wrestler gets on top of their opponent to break them down. Once they're down, the wrestler pushes the opponent's arm behind their back and locks arms with theirs. Then they run around to the head of the opponent and pin them onto their back.
Not only does Hinkofer do wrestling, but she was also on the swim team earlier this year and is thinking about continuing on with cross country once the season starts soon.
"Haley really fulfills the name of student athlete," says sophomore Nick Whittington, "Not only is she a terrific student but she is an amazing athlete."
While the wrestling Chiefs only have about four to five more meets this year it would be great to come out and support.