Teacher Profile: From Magazine Editor to English Teacher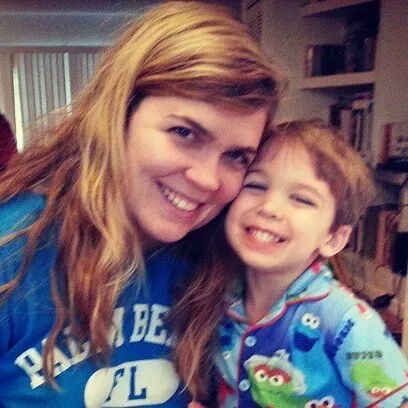 Although she's now teaching 10th grade English, Ms. Harms started her career as an interviewer for NewBeauty magazine. She has interviewed many celebrities, such as Fast & Furious actress Jordana Brewster and fashion designer Monique Lhuilier. She decided she wanted to become a teacher so she could contribute to the world at large, instead of just writing for a beauty magazine.
"I always thought teaching would be a rewarding career," said Ms. Harms.
Along with that, Ms. Harms wanted more time with her son who attends the on-campus pre-school, and is one of the Santaluces Little Chiefs.  While working lots of late nights and trying to meet deadlines, she didn't get to have many evenings with him.
Ms. Harms, who attended high school at Spanish River in Boca Raton, said that Santaluces is very different in all of the best ways.
"The student body is hard working," said Ms. Harms. "The student body is hard working and headed toward success but they also have fun together."
Ms. Harms described this year as a roller coaster, thrilling and exciting, and daunting all at once.
"I'm a little sad to see it coming to an end," said Ms. Harms. "But excited to do it all again next year."
Next year she's looking forward to seeing the class of 2017 thrive as juniors. She is also looking forward to meeting the class of 2018 and working with them.
Ms. Harms enjoys spending time with her family, reading, and creative writing. She also plays guitar, and sing as well as song-writes for a band that she's in. She likes all kinds of music, loves to discover new bands, and enjoys going to live concerts. She has seen many artists live, ranging from Madonna to The Offspring.
"I really do not discriminate against music and will listen to pretty much anything," said Ms. Harms. "I prefer rock but will give anything a shot."
Passionate in English, Ms. Harms is ready to continue teaching Santaluces Chiefs.