Chiefs See Jane Goodall at FAU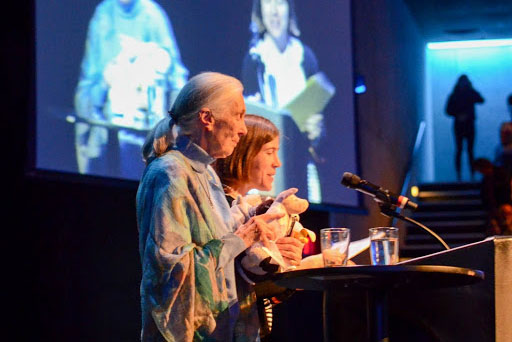 Over spring break, several teachers and students had the privilege of going to see Dr.Jane Goodall speak at Florida Atlantic University. Jane Goodall is a primatologist known for her observational study of chimpanzees in Tanzania, Africa for the last 50 years.
"I thought it was pretty cool because it was a once in life time event.It was really interesting hearing her life story chronologically. It really showed her dedication and experience," said Alicia Celia who had the chance to go.
This well-known primatologist and activist who changed science for women forever, shared her story to a full auditorium. AP psychology and AVID teacher, Mr.Gray, gave several tickets away to his students. His wife, Kate Detwiler, is an associate professor at FAU who has worked with Goodall in Africa. Detwiler convinced her to come back to FAU after 11 years to speak.
"During my time in Tanzania, I had the opportunity to observe animals I had never seen before, spend full days in the forest, eat new foods and learn a new language. Since my early childhood, I loved being outside and so it was a dream to do this in my early adult years. Being in a new culture, I learned how to appreciate the freedoms and opportunities I've had growing up in the United States," said Detwiler.
Mr.Gray had the opportunity to give away some tickets to students and teachers.
"I invited several students to the Jane Goodall lecture because aia wanted them to have that experience of seeing someone with an incredible world vision because the students we have here are the ones who are going to actualize the dream and the vision that Jane has. So, I thought it was really important for them to have that message so that as they become adults and people who are in position of power, they can make the world a better place."
Jaciah Rashid was inspired by Goodall.
"It was an amazing experience because she was very well spoken and hearing her experience in England and in Africa was definitely insightful."