Twisted Series Book One: Twisted Love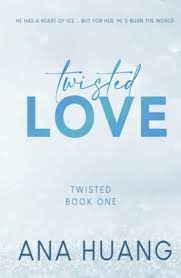 Twisted Love is the first book in the Twisted Series written by #1 Amazon best-selling Romance author, Ana Huang. She's also the author of the Kings of Sins and the If Love Series.
Twisted Love gives us the brother-cold best friend trope. It brings romance, heat, sadness, fear, mystery, and deception to the table. It was first published on April 29, 2021, with its original cover and then re-released with a Special Edition cover, which was a huge hit with fans.
We're introduced to our female protagonist, Ava Chen. She's the sweetest supporting girl that's always there for her loved ones but is tormented by these nightmare dreams from her childhood. Or are they? Despite these nightmares, she still keeps a smile on her face and sees only the beauty in the world and those around her. She's the definition of an angel.
Alex Volkov, our male protagonist, is anything but that. He's cold and bitter. He fears no one. He's not the hunted, he's the hunter. A soul is driven by rage and revenge. A strong businessman with the face of an angel but is truly a devilish person. But was he born like that or is it due to his tragic past that's like an eerie presence haunting him?
When Alex Volkov is forced to watch his best friend's sister he would never expect to feel something. The Angel melted the Devil's heart. What was so different about this girl? Why did she make him feel alive again? She was his Saviour, but he was her downfall. A love unexpected, but would grow into a fire of passion, love, deception, and secrets that would destroy them both if exposed.