Have you ever wondered how those who cannot speak communicate with those around them? The Augmentative and Alternative Communication (AAC) device is a blanket term for a variety of tools that enable nonverbal individuals to share what they want and need. Before the invention of AAC devices, it was incredibly hard for nonverbal students to communicate how they felt or to talk to anyone about their experiences. AAC devices help those who are nonverbal to communicate with their friends and parents. Several incredible students at Santaluces High School use AAC devices to communicate.
We asked one of my friends, PJ Bailey, how he felt about the device he uses. PJ mentioned that he was happy before the device and he was a little afraid of what that meant for him now that people could understand him. When the possibility opened for him to communicate, it was challenging. Much of our conversation was through the device used by PJ. During our interview, PJ answered with short, concise answers that are available on his device with pictures.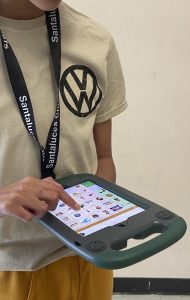 Using the device is like learning a whole new language; when PJ was offered this opportunity, it was something he never thought could happen. Speech Language Pathologist Jennifer Mydlarz explained how difficult it can be for some students to learn to use an AAC device. "The students basically need to read and understand pictures in order to communicate, and they miss out on all the input that students, who are verbal, get through natural modeling of speech."
However, Mydlarz also reiterated the significant impact that this technology possesses. "People who use AAC often have a lot to contribute and say; the best thing to do is to be patient and give them time to say it. It may take a little longer for them to get out what they want to say, but it's worth waiting for." As for PJ, he is happy to be understood. This special device makes him feel empowered and allows him to talk to his friends. He can share some of his favorite hobbies, such as building Legos and playing video games.
The device helps him communicate his answers with his peers and teachers in class. Ms. Mouring, a third-year teacher, has the honor of working with many students here at Santaluces who use devices. "Devices are crucial for non-verbal students. When they cannot communicate, we give them a device. It's like learning a second language; that's his second language, and he has learned how to communicate his needs over the years. It has helped him verbalize without having verbal skills. It's been very easy for him to communicate with me in class when he has a question. The device helps me bridge the gap and build him as a learner."