Four Football Players Commit to College Future
Four Chief football players signed their letters of intent to play college football Tuesday in front of their families, their coaches, and administrators. Three players, Deondre Guyton, Marcus Toussaint, and Eric Martinez, committed to Eureka College in Illinois and one, Elijah Guillaume, committed to Keiser University in West Palm Beach. 
Athletic Director Coach Cohen, former Head Coach Coe, and Principal Robinson praised the players for their leadership and hard work over their last four years as Chiefs. 
Deondre Guyton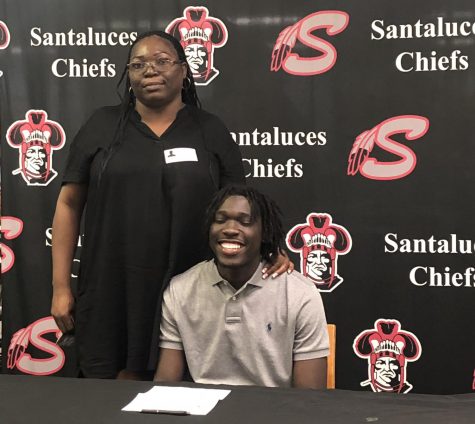 Guyton, a defensive hybrid who has been a part of the team since his freshman year, committed to Eureka College in Illinois. He loves everything about the school and feels like it is a perfect fit for him. "This school just makes the most sense to me," he said. As a valuable member of the football team, Principal Robinson came to him for his input on what to look for in a new football coach. He is most excited about being in a new environment with next year's older players whom he can learn from to become a better player himself. "I can't wait to increase the intensity level," said Guyton.
Marcus Toussaint
Toussaint has played the defensive back and running back positions for all four years of his high school career and also committed to joining the Eureka Devils next year. He values the bond he had with his teammates at Santaluces and came to his decision based on the strong relationships he has seen among the football players and coaches at Eureka. "It's like a brotherhood over there and everybody is just one big team. I'm just excited to start working with them and be a part of that," said Toussaint. He is excited to start maximizing his potential next year so that he can be the best player he can be for the team. "Next year I'm just looking to get a starting spot as a freshman, getting the work in, and just getting bigger and faster," said Toussaint.
Elijah Guillaume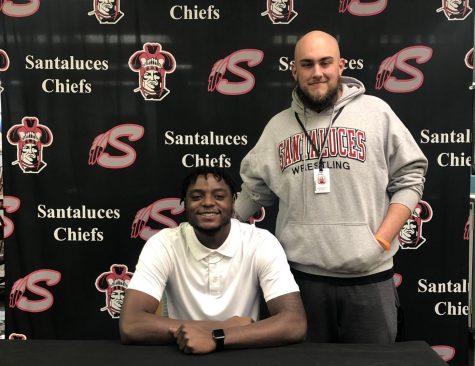 Guillaume plays five positions for the team and is committed to Keiser University in West Palm Beach, Florida. He believes that they can help him hone his abilities. "They're one of the best in their division so hopefully it's a good transition and I can pick something up," said Guillaume. He is not only excited to move on to the next phase of his football career, but he also plans to make the most of his time at Keiser by also focusing on his studies. "I want to become a stronger player and be able to pursue a career in leadership and management later in life," said Guillaume.
Eric Martinez
Eric Martinez, also known around the school as Ebo, played four years at the linebacker position and is also committed to Eureka College. His decision is based on the high quality of the school and he believes that his unique position guarantees him more playtime and, thus, more opportunities to develop. "I chose Eureka because there's not a lot of people in my position, so there's more playtime and it's a good school overall," said Martinez. He is excited and grateful for the experience of living in a new state and being able to continue playing the sport he loves. "I am mainly looking forward to the opportunity to live out-of-state and just being able to play football," said Martinez.