Super Bowl LVII!
It's here!  It all comes down to one last game to close out the 2022-23 NFL season. Super Bowl LVII will be taking place this Sunday, February 12 at 6:30 PM Eastern Time. This year's big game will be held in Phoenix, Arizona as the Kansas City Chiefs and the Philadelphia Eagles will take to the field and battle it out for the Lombardi Trophy.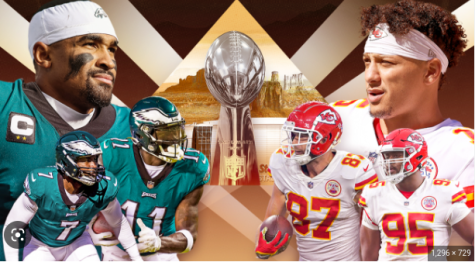 The Chiefs come into this game after taking down the Cincinnati Bengals in a game full of exciting moments that was won in the last few seconds of regulation. As always, the Chiefs' high-powered offense has been dominating all season long and Patrick Mahomes is once again playing at an MVP level and is not a stranger to big games like this.   However, he suffered an ankle injury earlier in the playoffs and it slightly played a factor in the AFC championship game.
However, he managed to lead his offense to another championship. For the Chiefs to win this game, they will of course look to Patrick Mahomes to have another big game and lead the offense, but they will need a big game from their defense. They will look for pass rusher Chris Jones to disrupt Jalen Hurts and the Eagles' offense.
On the opposing side, the Philadelphia Eagles have had an amazing season and have been Super Bowl contenders since the beginning of the season. Quarterback Jalen Hurts has been another guy that has been playing at MVP caliber and looks to lead his team to win another Lombardi Trophy. Hurts looks to win his first Super Bowl and prove a lot of naysayers wrong. Hurts also suffered from an injury earlier this season that made him miss the last few games of the regular season, but other than that, he has truly led his team to one of the best records in the NFL.
For Philadelphia to win this game, they will look to Jalen Hurts to make plays all night and get the ball to playmakers such as Devonta Smith and AJ Brown. Defensively, they have been very successful and look to continue that success this Sunday.
One team shall prevail and one shall go home empty-handed. This is going to be a great game. Be sure to tune in at 6:30 to see which team will be hoisting the Lombardi Trophy.
Score Predictions:
35-28 Chiefs
37-32 Eagles
8-7 Eagles