Student Spotlight: An Artist Since Birth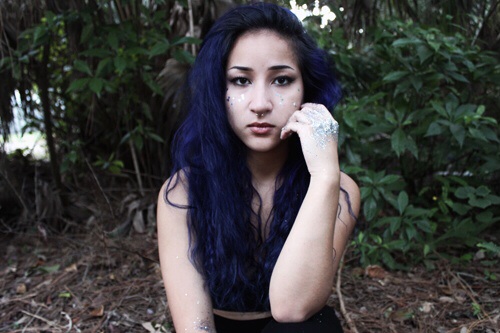 When students walk down the 4000 building, dubbed the "art hallway," they'll be walking through a gallery of the artists that Santaluces holds. One of these artists is senior Deseree Jacques.
Jacques holds the title of the "Artist of the Month," a label she earned through taking numerous art classes, such as Draw/Paint 1 and 2 and Visual Technology. Currently, she's taking Vis Tech 2 and AP Art. 
"Terembes and Ardner, as well as Badome, have all been very helpful teachers," said Jacques. "They've helped guide me on my road to success."
Although she took art courses upon entering Santaluces, Jacques' artistic abilities appeared "as soon as she popped out of the womb of her mother."
"I like the fact that you can be able to create whatever your mind comes up with," said Jacques. "You can make it into something physical."

Jacques plans to continue with art by attending a school of art, such as Cooper Union, which offers great art programs and is located in the city of her dreams, New York. 
"New York City is often renowned for it's art industries," said Jacques. "The overall atmosphere is so exciting and filled with people I can relate to."
Despite developing her love for art at a young age, Jacques' isn't exactly self taught. Instead, she gathers tips and techniques from other artists that inspire her. One of those artists is Todd Schorr, who combines cartoons with the technical skills of the artists in early 1800 europe, and strays on the theme of "pop surrealism."
"His artwork is absolutely beautiful," said Jacques. "It's so intricate in the details. The time he puts into his work is inspiring."
Jacques' own preference for her art is realism, which focuses on the representation of subjects without romanticization or other artistic conventions. Although she has a preferred theme, what she chooses to draw isn't straightforward.
"It varies," said Jacques. "It's always a different project. The only similarity is that it's drawn by me."
This year she has drawn a portrait of her dog, which is the drawing that her "Artist of the Month" title was under at the beginning of the 4000 building. She has also drawn six pieces that focus on her AP Art concentration, addictive personalities.
"Deseree has gone so much farther than I could have ever thought someone our age could," said fellow senior and Jacques' boyfriend, Sebastian Trenco. "Her passion for art is clearly visible and it is so beautiful to watch her not only be able to express herself but to also see someone find joy in doing so."
 When she attends Cooper Union after graduation, Jacques wants to major in Illustration.
"I see her obviously pursuing a life committed to art," said Trenco. "It may be as an art director or a tattoo artist. I just know that life has a spotlight saved for her and her work."