Dominic Alexandre is Accepted to West Point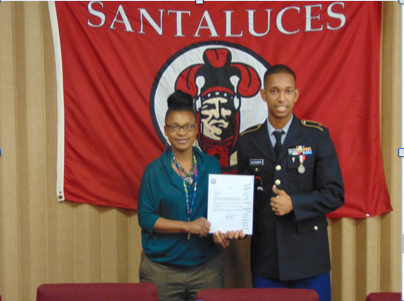 Cadet Dominic Alexandre has been accepted to the United States Military Academy at West Point. This is an exceptional honor for only the most promising students, as only 9% of applicants are accepted annually.
The process for admittance to a military academy is extremely difficult, and only one student per Congressional district can be nominated. After completing four years of Santaluces' JROTC program, Senior Alexandre completed all requisites for West Point.
"He needed to take a demanding physical fitness endurance test, multiple letters of recommendations, and a congressional appointment," said Colonel Stone. "Alexandre is the first person to be accepted to this service academy over 25 years at Santaluces."
At West Point, cadets earn and education as they are trained to become a commissioned leader of character, prepared for a career of professional excellence and service to the nation. Those selected to attend receive an unparalled education from anywhere in the world. Alexandre's tuition, room and board, and expenses will be fully paid.
Dominic declined an interview because he preferred that Colonel Stone speak on behalf of him.