Who are the JROTC Raiders?
The JROTC Raider team is the most physically fit JROTC sport we have here at Santaluces. Practices are held every single day after school, from 3:00 to 5:00. Most of the time we have practices at 8am in the morning on Saturdays. When there aren't Saturday practices we have competitions that day and we have to be at school by 4am.
For the last 3 weeks these cadets have been working especially hard to prepare for competition season. Our first competition is October 7th.
The most challenging thing about being a part of a team is actually working as a team. At the moment we have 2 different Raider teams, we have the male Raider team and a female Raider team. Robert Manhake is the commander of the male team and Kelsey Smela is the commander of the female team. They both encourage their teams to work together while at the same time pushing them to be better and this is the first year we have ever had a female Raider team.
Raider competitions usually consist of a 3 mile run, 1/2 mile liter carry, rope bride, obstacle course, tire flip, and they just started doing a car push.
During practice we do all of these things. We even get to push our team members cars for the car push.
Here we have the whole Raider team falling into formation. Once we're called to attention we sound off "CHEIF WARRIORS!" because that's who we are. As you can see in the picture many of us wear pants when practicing so we don't get rope burn on our legs. When we compete we wear our ACU's, which are long to protect our legs.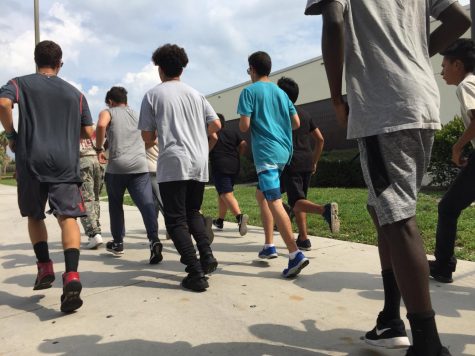 The Raider team starts off their practices by stretching and then running. On most days they run 8-12 laps around the student parking lot. Doing this makes sure that they'll be prepared for their 3 mile runs during competitions.
These are only a few of the rigorous things that we do. We work extremely hard to improve our mental and physical readiness for competitions. This JROTC sport is definitely one to join if you want to be physically pushed.