JROTC Raiders At SouthFork
The JROTC Raiders took on their second competition at South Fork High School.
At this competition we competed in a 5k run, First aid test, Tire flip, Obstacle course,Liter carry, and Rope bridge. All of the outside activities were more difficult than they usually are due to previous days that rained before this event. This caused everything to be wet and muddy.
We got to school at 4am and left Santaluces at 5am to sit on the bus for an hour bus ride. In the morning we usually sleep until we get to the school. Once we get to the school we unload the bus and get our tents, tables, and chairs set up. The actual competitions usually start around 7:30.
The 5k is always the first thing we do at every competition. This course was muddy and full of a lot of standing water. People were losing shoes left and right in the mud. The same goes for the Liter carry because it was on the same course as the run. Usually the run is rigorous but the conditions of the ground added an extra disadvantage to all of the teams.
This is the first time we have ever competed with a female team. Here we have our females getting ready to take on the 5k run to start off the events.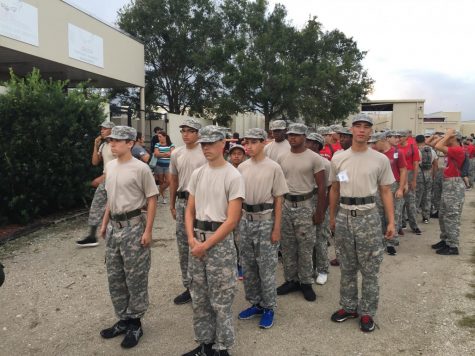 The males were the first one of our teams to compete.  This is them standing waiting to go on the 5k run.
We worked extremely hard but fell short in a few events. Our rope bridge could have been a lot better but it can easily be fixed if we work on it consecutively.
None of our teams placed this time because we made a lot of little mistakes. Both male and female team didn't do so well in rope bridge which is usually the easiest events. We got a lot of penalties on doing the wrong knots, but that can be fixed by going over the knots over and over again.
All we can do is practice harder and be prepared better for the next competition. Our next competition is November 4th at Port St. Lucie.