Chiefs of Santaluces: Erika Gonzalez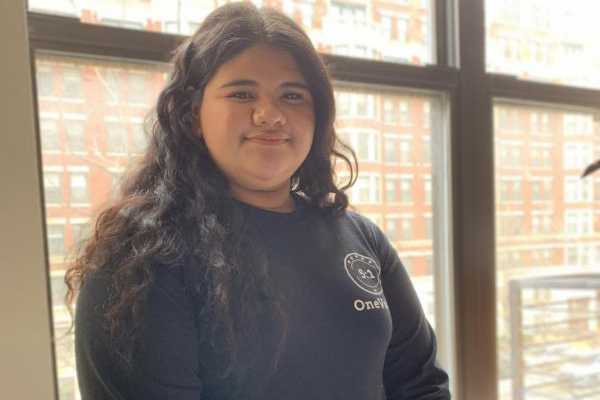 After the big Spring Break Washington trip, I had the opportunity to catch up with one of our resident angelic voices to question her on her activity around campus. Erika Gonzalez is a 17 year old Santaluces Senior and Choir Chief.
How long have you been in chorus?
"I've been in chorus for only this year! The last time I was ever part of a singing group was in elementary but as at after-school program. This is my first real year in a choir class…the beginning of this year (the first week) I was in her class during lunch, when someone played the piano chorus of "All of me" by John Legend and I started to sing with harmony, Ms.A heard my singing and told me I had to be in her class…I was switched by the next day."
Do you have any hobbies out side of school?
"Hobbies are a little hard to keep now and days when you have a busy schedule. I have [choir] rehearsal on Monday, Key club every other Tuesday and physics club every Friday and every weekend I babysit. I would say some of my hobbies are watching anything on Netflix mostly K-Dramas and Anime and listening to some of my favorite artists like Aaron Smith, Alec Benjamin, BTS, Eric Nam and of course a good book."
Tell us about Washington.
"Washington was an experience I will never forget! Although the bus ride with 50 other students was not pleasing but the experience to go seen many museums, see all the different building structures and, having one of the best meals with a fantastic show at "Toby's" was unbelievable. During the award ceremony, we didn't expect to win anything due to the fact this was only our first time attending something like this and especially because we were only able to have 3 rehearsals with all 5 different schools! We were honored to receive 3 awards!  A superior in both women's and mixed choir, and even an award for having a score of 95 and higher. Being a part of this fantastic trip was life changing."

If you were able to do anything while invisible in a span of 24 hours, what would you do?
"This is actually a really hard question to answer honestly. I think I would just follow my friends around messing around with them every once in a while."

What advice do you have for the underclass men?
"Some advice I would give an underclassmen is to get yourself situated. Stop slacking and stop complaining… get your community service, online class credit and your obligations done BEFORE your junior year. Also, colleges look at EVERYTHING so keep that GPA up and those grades high!"