COS: Cameryn Poitras
Cameryn Poitras is a Senior partaking in the most rigorous classes offered at Santaluces High School. She is currently enrolled in 3 AICE courses which include AICE Literature, AICE Environmental Science, and AICE Psychology.
" These classes can be really challenging especially when you're taking multiple at a time, but I love being able to challenge myself and do the best I can. These courses teach things like time management and it's a way to prepare for classes I might take in college," says Poitras.
Poitras hopes to become a registered nurse in the future as she's been interested in the medical field her whole life. She enjoys that medicine is a field that is always changing and improving, it's something she can keep extending her education on.
Aside from her school life, Cameryn competed in Gymnastics growing up.
"Even though it's not something I do anymore, I'm still able to flip like I did when I used to compete and it's definitely my favorite sport to watch on television," says Poitras.
Poitras also enjoys watching sports like football and volleyball.
Cameryn also likes experimenting with clothes and makeup in her free time. She likes mixing and matching clothes and trying out different aesthetics and experimenting with her makeup style. It's a way to explore her more creative side.
Adventure and exploring are also a big part of what Poitras does in her free time. She enjoys traveling (safely) to Florida Springs like Ginnie Springs, Blue Springs, and Silver Glen Springs. On the topic of water, Cameryn enjoys fishing and spending her time on boats and in the water.
Leave a Comment
About the Contributor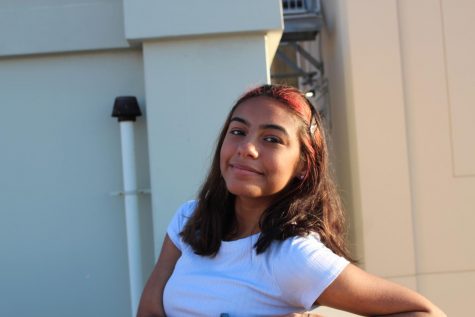 Bellicia Gutierrez, Staff Writer
Hello! My name is Bellicia Gutierrez. I'm a senior and this is my first year writing for The Tribe. I've been playing volleyball for about 6 years...