COS: Chabelys Perez
Chabelys Perez is a Junior at Santaluces High School and balances out extra curriculars while taking college level classes. Some of her favorite classes are Algebra 2 and AICE English Language because of the various materials she gets to learn every day that can benefit you in the future.
Chabelys says that COVID-19 has affected her, but it allowed her to open her eyes to being able to teach herself the different materials from school and time management.
The best thing Chabelys likes about Santaluces is the teamwork and the support of others. One of her favorite memories at Santaluces is having to work together, being a team leader, and winning competitions in Reserve Officers' Training Corps (ROTC).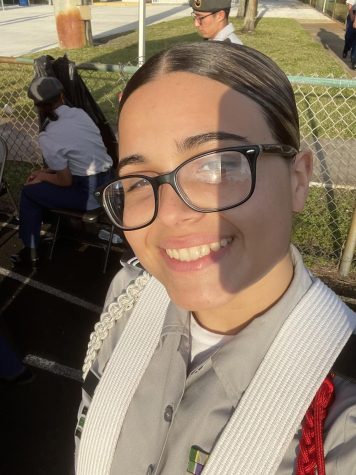 After graduating, Chabelys plans on going to college and major in Finance and Physics while still being apart of ROTC. She either wants to attend Florida International University (FIU) or Florida Atlantic University (FAU). After getting her Bachelor's Degree, she would love to join the Army.
Chabelys has always been passionate about her career choice since she was very young. She always wanted to serve her country and do good for America.
I've asked Chabelys if she had any advice for students and here is what she said. "Some advice that I would give other Santaluces students would be to work hard and never waste any single second; try to put in as much effort as possible because it pays off. While never wasting time, make the best out of your few, fast years of high school and make memories."