DIY Easter Day Treats
Easter day is full of vibrant colors, a day out in the blazing sun, and little kids trying to find easter eggs with candies and chocolates in them. But, no celebration is to its fullest potential without good desserts. Lucky you, I'm here to save the day. Here are three easy treats to try out for your family gathering, for your siblings, or even if you're staying home and just want to be festive.
3 Easter Day treats:
Coconut Easter Nests: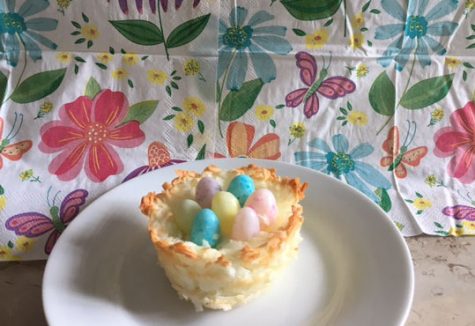 Viri Reyes
1. Take 2 egg whites, one package of coconut shreds, and 1 TBS of sugar, and mix in a bowl with a fork.
2. Preheat your oven to 350 degrees Fahrenheit.
3. Take a cupcake pan and spray butter on it so that they don't stick.
4. When the mix is stirred well, put some of the coconut in the pan. Gently make a dip in the middle of the coconut mix.
5. Put them in the oven for 20 minutes, but keep an eye on them. You know the coconut nest is ready when the edges of the nest are browning.
6. Once they're cooled, put some frosting in the dip of the nests and then stick some gummy or chocolate easter eggs in them.
Carrot Rice Krispies: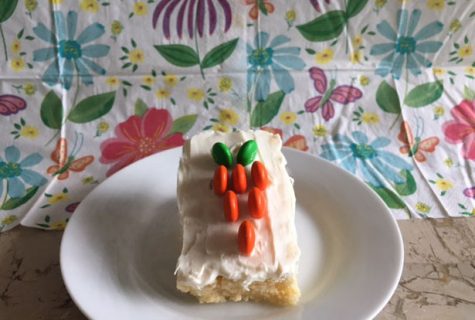 Viri Reyes
1. Either make your own rice krispies, or do what I did and buy a package of them.
2. Take some frosting and with a butter knife, put one coat on the face of the rice krispie.
3. Get some M&M's and pick out the green and orange ones. These are the only ones you'll be using.
4. Take 2 green ones and put them close to each other and place them so they make a "V" shape.
5. Place the orange M&M's in 3 rows. The first row will have 3, second row will have 2 and the last will have just 1. Make sure that the M&M's are not laying flat when you place them, but stick them on their skinny side.
Driving Bunny:
Viri Reyes
1. Take a Twinkie and a butter knife. Use the butter knife to cut out a square towards the end of the Twinkie. This will be the cars seat.
2. Take a bunny peep and stick it in the square you made. The Twinkie should already have frosting in it so it should be enough to make the peep stable. If not, put some frosting on the "seat" to help "glue" it down.
3. Using a mini pretzel, stick it in front of the peep, it's going to act as the steering wheel. This should have no problem sticking. If it does, add more frosting.
4. As wheels, use 4 mini New York Peppermint Patties. I put some icing on the flat base of the patty and sticked them to the Twinkie as wheels.
Enjoy these delicious treats with your friends and family, and of course have a happy Easter!
Leave a Comment
About the Contributor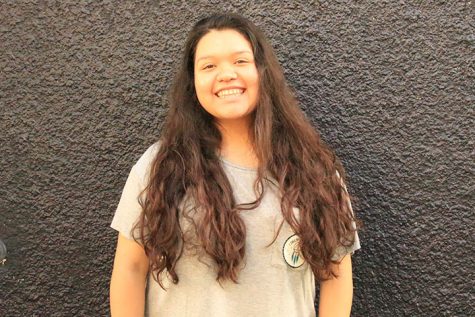 Viri Reyes, Staff Writer
Hi, my name is Viri. I'm a senior here at Santaluces, and it's my first year writing for The Tribe. If i'm not studying, I'm reading. I have a passion...