Twisted Series Book Two: Twisted Games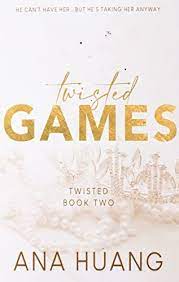 Twisted Games is the second book in the Twisted Series written by Ana Huang. In the first book, Twisted Love, our protagonist was Alex Volkov and Ava Chen. In Twisted Games, instead of following Ava and Alex's relationship, there's a time jump and the story follows Ava's friend, Bridgett who's a princess from overseas, and her stoic bodyguard, Rhys.
Princess Bridget Von Ascheberg is nothing like the typical princess stereotype. She's a bold, strong, independent young woman, who doesn't take no for an answer. She never wanted anything to do with the crown. Even if she wanted it, her eldest brother was first in line and was trained since he was born to take over the Crown.
This was until he fell in love with a non-royal, which was against the Crown's rules. Royalty couldn't marry anyone outside of their class rank. Following his heart, he rejected the Crown and decided to marry her anyways. The kingdom was in shambles. The future King refused the crown.
Who's next in line? Bridgett. The girl who never wanted anything to do with the Crown had to leave DC, her friends, and the life she built to go back to Eldorra to become Queen.
Rhys is a tall, stoic, arrogant, handsome broody man and the best bodyguard in the business. He has always kept his emotions in line, especially, when it comes to his clients. He had two rules 1.) Always protect the clients, no matter what, and 2.) NEVER BECOME EMOTIONALLY INVESTED. He kept a good streak until he was assigned to protect a specific royal who was more stubborn than him.
She tested everything he said and as aggravated as he was, he was even more intriguing. Day by day, hour by hour Bridgett peeled back the most vulnerable layers of him. She made him feel something. As their time together continues, he tries to continue to fight the urge to take her. To make her his. She was his Princess. His Heaven. His destroyer.
A love that was full of passion, lies, and secrets. As Ana Huang put it, "Unexpected and forbidden, theirs is a love that could destroy a kingdom…and doom them both."
If you are a fan of forbidden romance, royalty lies, and stoic, tall men that would put their own lives on the line for you, this is the book for you.