Crocheting, the art of looping and intertwining yarn with a crochet hook, has recently taken the world for a loop! You can do all kinds of activities with this fiber art, from starting a small business to making a gift for someone or even just as a fun, relaxing way to spend your time.
Understanding what it means to crochet is the first step in truly appreciating crocheting. Crocheting is often confused with its neighbor, knitting. Though a small difference, knitting uses needles, and crocheting uses crochet hooks. Knitting originated likely in the Middle East and eastern Mediterranean in the 11th or 12th centuries. Crocheting emerged much later, most likely in Ireland during the potato famine of the nineteenth century. Since then, numerous small businesses have formed, producing unique varieties of decorations and clothing items. From shirts and pants to decorative flowers and stuffed animals!
One benefit of crocheting is that it can't be replicated by large companies. Crocheting is tedious and requires an eccentric way of stitching that machines cannot replicate. So, every crochet item that is made is made by a caring pair of hands that puts a great amount of effort and time into their creation.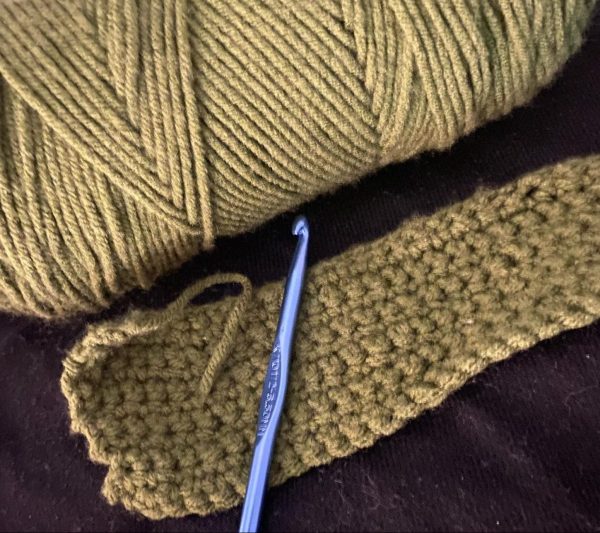 One of these creations being the infamous Cat Beanie. This type of beanie has blown up due to TikTok and has become a massive trend all over the world! Almost all crocheting businesses have this item ready and available to purchase with all kinds of unique variations that come with it.
As a crocheter, I know how difficult it is to get the hang of it. I failed miserably during my first few attempts at a chain. My current crocheting project is a tote bag, and it's going much smoother than making the chain ever did (for the most part). I first started crocheting to learn a new productive hobby, but I soon found myself crocheting after a difficult day or any time I was really stressed as a way to sort my thoughts. Not only was it a productive way to spend my free time, but it also became a type of therapy for me.
I interviewed Allison Bower, a fellow crocheter and member of The Tribe, who shares my passion for crocheting. I asked her what first got her into crocheting and what's her favorite creation. "I got into crocheting because I wanted a new hobby and spotted things on TikTok that looked really good. My favorite thing I've made is flowers." When I asked if she had any useful recommendations for individuals who wish to start crocheting, she said, "YouTube is your best friend. It's quite beneficial." And I wholeheartedly agree!
Crocheting takes a lot of effort and determination. But learning brings so many benefits: free therapy, making gifts for your loved ones, and even the formation of a business. All it takes is some yarn and a crochet hook!