Let's "Get Weird" With Little Mix
Little Mix was the first and only group to win the British version of the X Factor in 2011. Leigh-Anne Pinnock, Jesy Nelson, Jade Thirwall and Perrie Edwards became Little Mix.
Little Mix has hits from their first album DNA which are; "Wings", "Change Your Life", and "DNA". They also have hits from their second album Salute which are: "Move," "Little Me," and "Salute." 
On November 6th, their third album Get Weird was released. Their first single, "Black Magic," has done well all over the world. This album has more of an 80s pop vibe, and it works so well for them. All of the songs on this album have different sounds, yet it all ties back to Little Mix, and what they are about and like.
1. Black Magic: For me, I'm happy they released this song first. It shows me how they wanted to come back from their break with a bang, and this song is the perfect song to use for that.
Lyrics: Take a sip of my secret potion, I'll make you fall in love.
For a spell that can't be broken, one drop should be enough.
Boy, you belong to me, I got the recipe, and it's called black magic.
2. Love Me Like You: I love the 80s vibe I get from this song. This is something that I hope would be played at prom. I'm excited to see more of the dance routine for this song, as well.
Lyrics: Last night I lay in bed so blue, 'Cause I realized the truth, they can't love me like you
I tried to find somebody new, baby they ain't got a clue, can't love me like you.
3. Weird People: This song makes me feel like being weird is perfectly fine, and how showing who you are makes you feel so much better.
Lyrics: Weird people on the dance floor, we're just doing what we came to do
Cause we're all weird people and we love it, don't let them other suckers hate on you.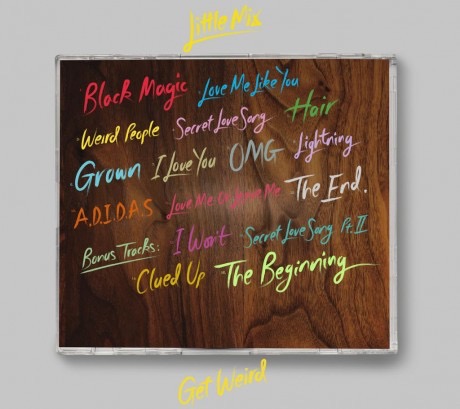 4. Secret Love Song (Feat. Jason Derulo): I love that they had Jason collaborate with them. Their voices together give me chills because they fit so well.
Lyrics: Why can't you hold me in the street? Why can't I kiss you on the dance floor? I wish that it could be like that,
Why can't we be like that? Cause I'm yours.
5. Hair: This song makes me want to get all my friends together and just jam to this song.
Lyrics: Gotta get him out my hair,
I tried everything but it's useless,
he pushed me so far now I'm on the edge,
Make him disappear, go get him out my hair.
6. Grown: I love the beat to this song, and also the dance routine. The pace of this song will make you want to get up and dance to it.
Lyrics: Grown now, grown now, don't you know that I'm grown now, grown now
Don't you know that I can hold my own, boy you missed the boat,
Can't get with me, now I'm grown.
7. I Love You: My favorite part of this song is their solos because their voices are just mesmerizing.
Lyrics: Here I go again, baby, baby, I just wanna scream out 'til my voice breaks,
Even if the tears fall and my heart hates me, baby I love you.
8. OMG: This song is good, but it isn't my favorite. I love their voices, but this song just doesn't appeal to what I really like for a song.
Lyrics: Oh my gosh, I did it again
He said I broke his heart, it keeps happening
I don't know why they always fall for me
Why they always fall for, oh my gosh.
9. Lightning: This is one of my favorites on the album. When I picture this song, I can picture a great dance routine that I know they will come up with.
Lyrics: Oh lightning strikes twice, and it burns like ice
I wish I didn't love you again, oh lightning strikes twice
And it burns so nice, I wish I didn't love you, (but I do).
10. A.D.I.D.A.S: This song is about wanting to be around someone so bad, thats all you can think about. This is also a great song, but not my favorite on this album.
Lyrics: All day I dream about, (sshh!) with you,
They say that it's overrated, well they ain't doin' it right.
11. Love Me Or Leave Me: I love this song because their voices are raw and you can hear the emotion behind this song.
Lyrics: You can take this heart, heal it or break it all apart
No, this isn't fair, love me or leave me here!
12: The End: This song is another personal favorite. I love it because it's another acoustic track, and when they do anything acoustic, it becomes my favorite because you can really hear them.
Lyrics: So I swear, that this time, this is the end.
13: I Won't: This song makes me feel good about myself, and to go after things I love and not give up on my dreams.
Lyrics: And I won't let anybody tell me no, I won't take anything for granted,
Cause I know that nothing good comes easy,
If it did, I wouldn't be me, let it go and let me do it cause,
I won't.
14: Secret Love Song, Pt.2: This is the same song as before with Jason Derulo, but this version doesn't feature him. Both versions are favorites for me.
Lyrics: Why can't I say that I'm in love? I wanna shout it from the rooftops
I wish that it could be like that, why can't we be like that? Cause I'm yours.
15: Clued Up: Another favorite for me. It's another acoustic track, which is great because I love hearing them sing with only a guitar behind them.
Lyrics: I stay clued up and I'm ready, to love the good and live the bad
Clued up and now I get it, just make the best of what you have
'Cause sometimes it's beauty, sometimes it's pain, sometimes it's sunshine, and sometimes it's rain.
16: The Beginning: This song is another favorite for me. Their harmonies at the end are incredible, and I can hear in their voices how far they've come since they won the X Factor in 2011.
Lyrics: Yeah I know we've come so far, but it's just the beginning, huh
Yeah I know we've come so far, but it's just the beginning.
About the Contributor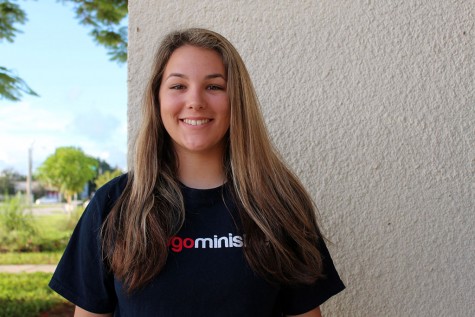 Casey McDuffie, Staff Writer
Hi, I'm Casey McDuffie and I'm a senior this year. Photography and writing have always been an outlet for me to express myself. I was able to go on two...