What's your high score?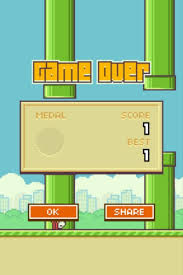 The little yellow bird has caused world-wide havoc, slight depression and rage filled days for many people.
Flappy Bird has taken the mobile gaming world by storm. The game features a small yellow (or if you use android, an array of colors) bird that you have to help dodge pipes by tapping on the screen. It sounds simple, but it's not. The reason why the game is addictive is because it is so simple and almost insults your intellegence because you wonder why you can't beat something this simple.
It spreads like an illness. One person has it, and it is only a matter of time before another has it, and then another, and so on. You can't stop it, you can only postpone the inevitable.  Many individuals have tried to win the endless game, others have failed, but ultimately, they all come short of  defeating the yellow bird.
Some, more than others, have achieved greatness, posting scores in the high thousands. But for those of us who don't have that time to spend on perfecting our craft, a decent score would be anywhere from 10-100.
The wave has also made itself known here at Santaluces. The constant sound of the game echoes throughout the hallways and in many classrooms.  Most of the time, the participant's attempts end in anger, but it's always nice to see them try again, and fail.
"I play Flappy Bird because when I'm mad, I'm determined to win." said junior Jerry Marseille. "Flappy Bird is for winners, if you can't win then don't play."
Personally, my high score is 28. I've decided to retire from my Flappy Bird career and hereby induct myself into Santaluces' "Flappy Bird Hall of Fame." I'm sure there are others that have defeated my score, but the race for the best will continue to ensue.
View Comments (2)