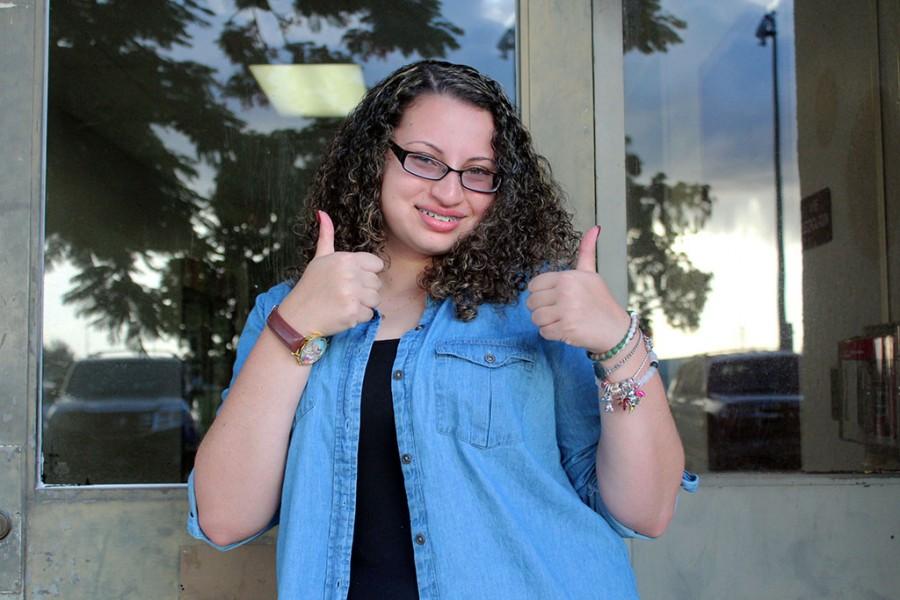 Hi, I'm Ilisha and I'm currently a senior. I am co-editor and this is my second year in newspaper. I want to focus more on videos and social media. I want The Tribe to be at its best and to always be updated and accurate. I want this newspaper to always have the most updated information that people can come to first.
After high school I plan on attending an University and taking a computer class so I can finally learn how to not act like an old woman with technology.
I absolutely love sharing my opinion, even if you didn't ask for it. I'm a hardcore feminist who enjoys long walks on the beach, animals and any Audrey Hepburn movie.
I'm also obnoxiously into cats and puns. I'm not kitten you.
Ilisha Strassler, Co-Editor
Apr 14, 2016

Media Invades After Student With TB Off Campus for Treatment

(Story)

Apr 13, 2016

Photo of the Day: Prom Court Sashed

(Story)

Mar 04, 2016

Chiefs Debrief From the SAT

(Media)

Feb 08, 2016

Photo of the Day: Debate Team Wins 3rd in Ethics Bowl

(Story)

Feb 02, 2016

Photo of the Day: The Track Team Gets Ready to Sprint

(Media)

Feb 02, 2016

Barbies Become More Beautiful

(Story)

Jan 26, 2016

Photo of the Day: the Blood Drive is Back

(Story/Media)

Jan 14, 2016

Photo of the Day: Students Prepare for Literacy Week

(Media)

Dec 14, 2015

Donald Trump Isn't Funny Anymore

(Story)

Sep 18, 2015

NHS Inducts New Members

(Story)

Aug 26, 2015

Warning Bell: Does it Ring a Bell?

(Story)

Aug 21, 2015

Chiefs Jump Off the Plank Against Pirates

(Media)

Aug 17, 2015

Photo of the Day: Seniors Start Their Year

(Story)

Aug 11, 2015

LINK Crew Links Up With the Class of 2019

(Story)

May 28, 2015

Food Court Will Change Chief Territory

(Story)

May 26, 2015

Chiefs Welcome Faculty Kids on Take Your Child to Work Day

(Media)

May 26, 2015

The Criminal Justice Academy Supports Wounded Veterans

(Story)

May 22, 2015

Chiefs Earn Win Over Centennial

(Media)

May 19, 2015

Chief Class of 2015 Says Goodbye

(Media)

May 15, 2015

Chiefs Carry Away Pathfinder Awards

(Story)

May 12, 2015

11 Ways to Relieve Testing Stress

(Story)

Apr 24, 2015

Photo of the Day: Santaluces Gets a Visitor

(Story)

Apr 22, 2015

Ghostwriter Writes Out Some Misconceptions

(Story/Media)

Apr 17, 2015

Ghostwriter Appears at Santaluces

(Story/Media)

Apr 07, 2015

Link Crew Links With Students

(Story)

Apr 07, 2015
Mar 06, 2015

Learning English Through Cooking

(Story)

Mar 05, 2015

Can't Deal with College Stress

(Story/Media)

Feb 27, 2015

How Old Is Too Old?

(Story)

Feb 20, 2015

Chiefs Make Saturday A Success

(Story)

Feb 13, 2015

Photo of the Day: SGA On Valentine's Day

(Story/Media)

Feb 12, 2015

Photo of the Day: Swaye Prepares Lunch For Administrators

(Story/Media)

Feb 11, 2015

In Love with Valentine's Day

(Story/Media)

Feb 04, 2015

American Horror Theories

(Story)

Jan 21, 2015

Fashion Club Struts Back Into Santaluces

(Story/Media)

Jan 15, 2015

Pathfinder Spotlight: Meet Arren Richter

(Story/Media)

Jan 15, 2015

"Group" Projects

(Story/Media)

Dec 05, 2014

Photo of the Day: Poinsettia Delivery

(Story)

Dec 03, 2014

Wrap It Up: Ten Gift Ideas for the Holiday Season

(Story)

Nov 20, 2014

Friendzoned or No-zoned?

(Story/Media)

Nov 20, 2014

Kardashian Breaks the Internet? Who Cares?

(Story)

Nov 10, 2014

Alex From Target's Fifteen Minutes of Fame At A Cost

(Story)

Nov 07, 2014

Cut Out The Judgement

(Story)

Oct 23, 2014

Student Spotlight: Alexandra De Souza-Rivera is a Jack-of-All Trades

(Story/Media)

Oct 14, 2014

Debaters To Watch: Alex Padilla

(Story/Media)

Oct 08, 2014

I'm Not About That Bass

(Story/Media)