My Top 15 Songs of 2015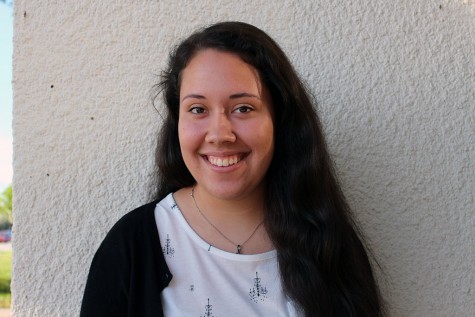 More stories from Angelina Garcia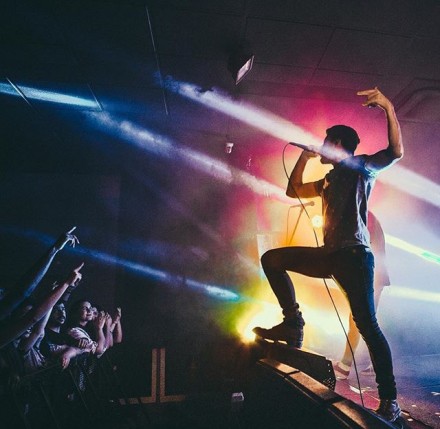 I found 2015 to be an amazing year for music. Warped Tour 2015 had a stellar lineup, and plenty of albums were released by bands who did and didn't spend the summer touring. In not really any particular order, (because I can't decide,) I've picked out my 15 favorite songs from this year.
Doubt- Twenty One Pilots: I had this song playing on repeat plenty of times. I'm not sure what it is about this song. The lyrics aren't exactly the happiest, but the beat is still impressive and the entire song itself seems expertly put together. It's pretty hard for me to stay completely still while listening to it.
The World I Used To Know- We Came As Romans: Whenever I listen to this song, I find that it almost always stays stuck in my head for at least a couple of hours, maybe even days. The chorus is incredibly catchy, and it's just a downright good song. We Came As Romans's self-tilted album We Came As Romans was released during the summer, and it definitely wasn't a letdown.
My House- PVRIS: There's a reoccurring theme within this list; most of these songs are very catchy. I didn't really listen to PVRIS much until after Warped Tour (which I went to on July 4th). After watching Lyndsey sing her lungs out and Alex and Brian rock the stage, I wanted to hear more. Giving this band a chance was a great decision, and now they're definitely one of my favorites.
Oh My Heart- Night Riots: Night Riots is one of my favorite bands. I also saw them at Warped Tour, and seeing them preform live made me fall in love with the band. I even saw lead singer Travis Hawley later on in the day, and he gave my friend and I a hug and took photos with us. He also earns bonus points for preforming Drake's song, "Know Yourself," and giving the audience plenty of laughs and smiles, considering Night Riots is an alternative rock band. (You can read more about my Warped Tour experience here.) I would probably fill this list with their songs, but I'm forcing myself to just stick to one. I adore this song, and it's again, an incredibly catchy one.
R.I.P. To My Youth- The Neighbourhood: This song is very catchy. While the lyrics tend to be a bit melancholy at times, it's still a pretty upbeat song. It's easy to sing along to and when I first heard it, I wasn't completely convinced that I liked it. Now, though, it's a song that I definitely listen to often. I used to be a huge fan of The Neighbourhood, and I stopped listening to them for a while, which probably happened because I was listening to them so often. This song is probably was brought me back to them.
I Am- Hands Like Houses: My favorite band, and potentially my favorite song by them. It's definitely one of my favorites, and if anything, it's tied for first with the other song they released in 2015. (That song is also on this list.) I have so much to say about this song, and all of it is positive. I'm very excited for this year because their album Dissonants is going to be released during February, and I just know it's going to be amazing.
I Won't Give In- Asking Alexandria: This song is proof that Denis Stoff (Shaforostov) was the perfect choice as Asking Alexandria's new vocalist. This was his debut song in that new position, and I think it's perfect. I can't really think of another song that sounds too similar to it. It fits in with other Asking Alexandria songs, yet Denis still manages to add in his own little touches that fit in seamlessly. As a fan of the music he created before being in Asking Alexandria, I was glad to see him join the band. I really, really love his voice. I love him as a person too. He's pretty cool. I can't wait for their new album, The Black, to be released in March.
New Romantics- Hands Like Houses: Okay, no surprise, another song by my favorite band. While I was excited about their upcoming album when "I Am" was released, this song fueled that excitement even more. I wasn't sure what path they were taking with the band, and "New Romantics" seems to give off the vibe they're going for with Dissonants.
Stressed Out- Twenty One Pilots: Yet another group I could cloud up this list with. I could add plenty of songs from their album Blurryface. This song in particular, however, stands out to me. I'm pretty sure I'm not the only one who feels that way though, considering this song has skyrocketed on Spotify charts, at times gaining hundreds of thousands of daily plays. It has been a huge hit, and it's continuing to gain popularity.
Honeymoon- Lana Del Rey: This would be the first song on the list that's not from a band. Lana Del Rey was my first concert, and I went to one of the dates to her Endless Summer Tour last year in June. This song was released only a couple of days prior to the concert date I attended, which only heightened my excitement. The preformed it live that day, and of course, she did so flawlessly. It's definitely a slower song, but that doesn't have to be a bad thing. It's something nice to keep on in the background while I'm doing something.
Me, Myself & I- G-Eazy, Bebe Rexha: I sort of surprised myself this year when I developed a liking towards G-Eazy. It's not the kind of music I'm usually into, and he's basically the only rap artist I actually listen to. It feels like one of those situations where you really like the song, but you don't know why it happened. This wasn't the only song from G-Eazy that I like from this year, though.
Break- Night Riots: I may have said that I was just going to stick to one song by Night Riots, but I couldn't resist. I really love this song. I'd say it's probably at the same level with their song "Contagious," but for the sake of this list, I'm sticking with this one just because it's not as popular as "Contagious" is. It's one of those songs that just makes me feel happy and want to sing along.
Prisoner- The Weeknd ft. Lana Del Rey: This is the song that I heard about the most recently out of everything else on this list. My friend recommended it to me because I'm a fan of Lana, and I wasn't disappointed. Her voice really is beautiful, and it ties in perfectly with his.
Throne- Bring Me The Horizon: When I first heard that Bring Me The Horizon was releasing new music, I was pretty excited about it. However, when I first listened to it, I was so surprised. It sounds nothing like their old music. I'm sure many of their "fans" are complaining about, but the music is still great, so what's the problem? I understand that some bands change for the worse sometimes, but this isn't a case of that. It's interesting and also exciting to see them branching out and trying new things, and doing so excellently. This song is great for just about any mood. While the lyrics may be a little intense, it still has a melody that's easy to sing along to.
Copacetic- Knuckle Puck: This list deserves a little bit of pop punk. I honestly had never listened to Knuckle Puck before last year's Warped Tour. I got to see them preform live, and I instantly knew they were a band that I would be interested in. I went to their set right after my meet and greet with Hands Like Houses, so of course I was super happy, and Knuckle Puck kept my mood up. They have their own sound and it's pretty unique, despite there being seemingly millions of pop punk bands out there. I really enjoy just about everything about this song: the beat, the chorus, the way it all fits together.
Leave a Comment
About the Contributor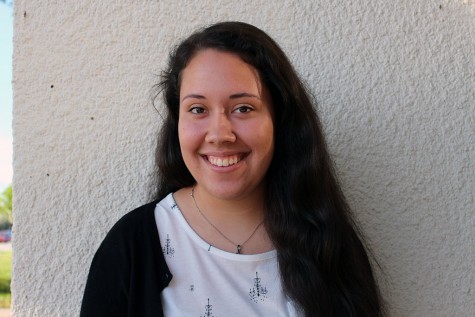 Angelina Garcia, Co-Editor
Hey, I'm Angelina and this is my third year writing for The Tribe. This year I'm co-editor and looking forward to an even better newspaper than past years....