My Parasailing Story
To be completely honest, I was fairly hesitant to try parasailing because I heard about the accident of two teenage girls in Panama Beach. The ride out to Fort Lauderdale was a long one. My hands were sweating, and I found myself constantly fidgeting.
I'm not afraid heights, but I do have an active imagination. What if the rope breaks? What if I slip out of the harness? I was working myself up.
When I arrived to Fort Lauderdale, it was cloudy and the sun had been completely hidden. The water was dark and the waves looked rough from where I was standing on the beach. However, like typical Florida weather, the partly cloudy skies almost instantaneously disappeared, revealing beautiful scenery.
The uneasy feeling I had in the pit of my stomach was slowly sinking. I went to the counter to pay for the parasailing, where they handed me a waiver in which I basically signed my soul away. At this point, I started to feel less scared and just a little more on the anxious side.
I walked to the edge of the beach where I was driven by a jet ski to a boat far offshore.
Once I reached the boat, I was met by two men who assisted me. I was put into a harness and the man noticed I looked a little worried (and partly because I was shaking so badly). He said to me, "Whatever you expect it to be, it's the complete opposite."
It did not occur to me what he meant by that, so I just continued to follow his instruction and sit at the back of the boat.
Ironically, and I can't make this up, the song Fly Away by Lenny Kravitz played on the stereo they had on the boat and the man laughs and says, "Wow, what good timing since you guys are about to fly."
The harness I was in was attached to a bar and parachute. He counted to three and all of a sudden I was rising into the air.
All the fear I possessed completely vanished and I understood what the man meant. I expected it to be loud, windy, and rough. However, it was much calmer than I had initially anticipated. When you are up there, you feel like you're flying. Not one aspect of the experience was terrifying, by any means. At that height, you are able to just relax and take in the view of the ocean on one side and then the shore on the other. 
After my experience, I recommend that parasailing be added to the bucket list of everyone.

Leave a Comment
About the Contributor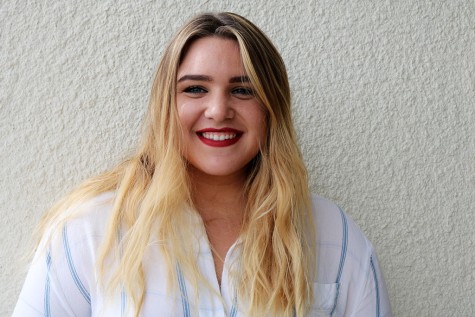 Skylar Cross, Photo Editor
I'm Skylar Cross and I'm a senior, here at Santaluces, enrolled in the Visual Arts Academy. This is my third year in newspaper as a Photo Editor. I'm...